Express Entry is a system utilized by the Government of Canada to oversee applications for permanent residence from skilled workers aspiring to immigrate to Canada. It is not limited to any particular category or stream but rather serves as a pathway for economic immigrants possessing the necessary skills and qualifications.
Individuals interested in permanent residence must go through a three-step process, starting with meeting the eligibility criteria and concluding with receiving an invitation based on the Comprehensive Ranking System (CRS) score. The CRS score is assigned by the government, taking into account various factors and information provided by the candidate. The scores range up to a maximum of 1,200 points, and candidates with higher CRS scores have a greater chance of receiving an Invitation to Apply (ITA) for permanent residence.
The Canadian government conducts three types of rounds throughout the year to invite candidates through the Express Entry system. The government determines the type of round, and the number of candidates to be invited, and selects the highest-ranking candidates from the pool for an invitation to apply for permanent residence. The following are the three types of rounds through which the government invites candidates: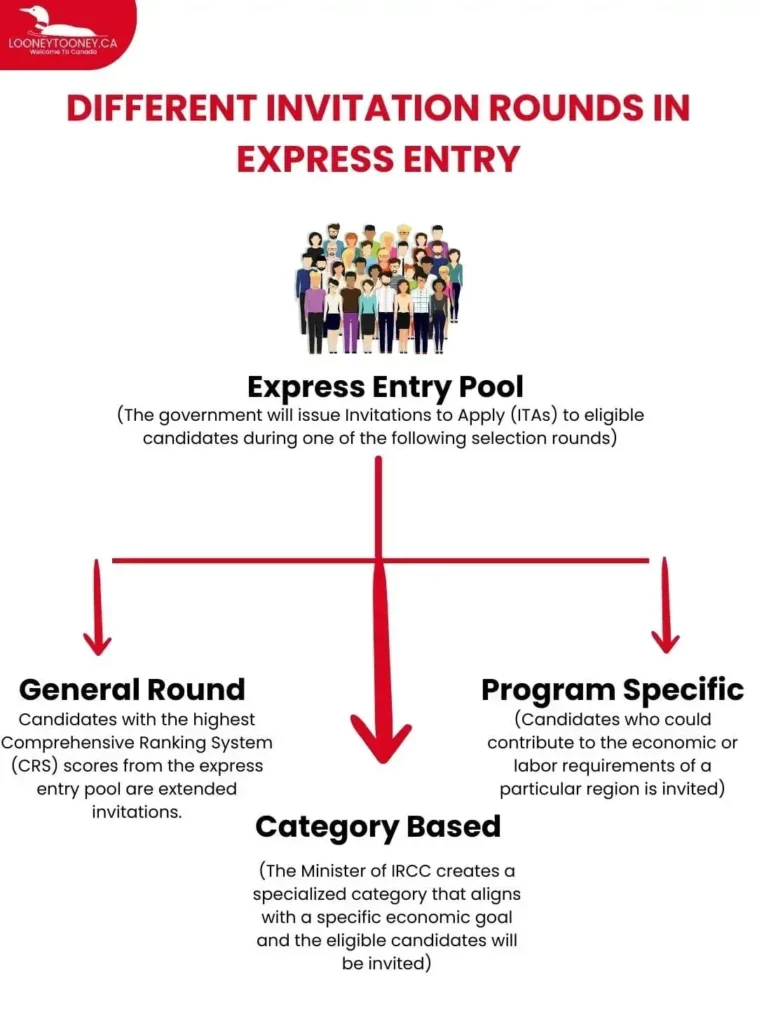 General Round of Invitation
In a general round of Express Entry, the Canadian government employs a points-based system called the Comprehensive Ranking System (CRS) to rank candidates in the Express Entry pool. The candidates with the highest rankings are subsequently invited to apply for permanent residency in Canada.
Program-Specific Round of Invitation
During program-specific invitation rounds, the Canadian government focuses on inviting candidates who meet the eligibility requirements of a specific program or stream. For instance, if a round is designated for the Provincial Nominee Program (PNP), only candidates who have been nominated by a province or territory under the PNP and meet the corresponding criteria will be invited.
These program-specific invitation rounds enable the government to target candidates who possess the skills, qualifications, or connections to specific provinces or territories, thereby supporting the economic and labor market needs of those regions. It ensures a more tailored approach to selecting candidates for immigration based on specific program requirements and priorities.
Category-Based Round of Invitation
In category-based invitation rounds, the Minister establishes a specific category aligned with a particular economic objective. Subsequently, the government invites the highest-ranking candidates from the pool who meet the eligibility requirements of that category.
On May 31, 2023, the category-specific Express Entry system was implemented. Subsequently, the first round of invitations targeting healthcare professionals commenced on June 28, 2023. Additionally, on the same day, the government announced the second round, which is aimed at professionals with STEM experience.
The Canadian government utilizes these three rounds of the express entry system to efficiently attract young talents, simplifying the process and providing guidance to candidates in order to secure an invitation for permanent residency.