This article has been reviewed and approved by Sanchita Chugh a certified RCIC (Registered Canadian Immigration Consultant).
The Atlantic Immigration Program is a collaborative effort between the federal government and the four provinces on Canada's east coast. Its primary goal is to attract skilled immigrants, international graduates, and intermediate-skilled workers to the region.
The program is an employer-driven program created to support employers in Atlantic Canada to find competent applicants for positions they have been unable to fill locally. The article offers a comprehensive step-by-step guide to obtaining permanent residency (PR) in Canada through the Atlantic Immigration Program.
---
---
Table of Contents
---
What is the Atlantic Immigration Program (AIP)?
For qualified foreign employees and international graduates from a Canadian university who desire to live and work in one of Canada's four Atlantic provinces, the Atlantic Immigration Program (AIP) offers a route to permanent residency.
Through this program, a prospective applicant has the opportunity to seek employment with a designated employer in any of the four Atlantic provinces. Upon securing a job, they can obtain a Certificate of Endorsement from the province, which then allows them to apply for permanent residence.
The following are the four Atlantic provinces in Canada.
New Brunswick
Nova Scotia
Prince Edward Island
Newfoundland and Labrador
Since its inception, the AIP program has seen steady growth in candidates who have successfully applied and settled in the Atlantic provinces. By the end of 2022, over 7,500 newcomers had been welcomed under the program, contributing significantly to the region's workforce and economy. The application fee and the processing time of the Atlantic Immigration Program are mentioned below:
| | |
| --- | --- |
| Fees | $1,365 |
| Time for Processing | 5 months |
Steps to Apply for PR Under the AIP Program Canada
The Atlantic immigration program comprises three steps that candidates should undergo prior to applying for permanent residency under the program. The steps are outlined below.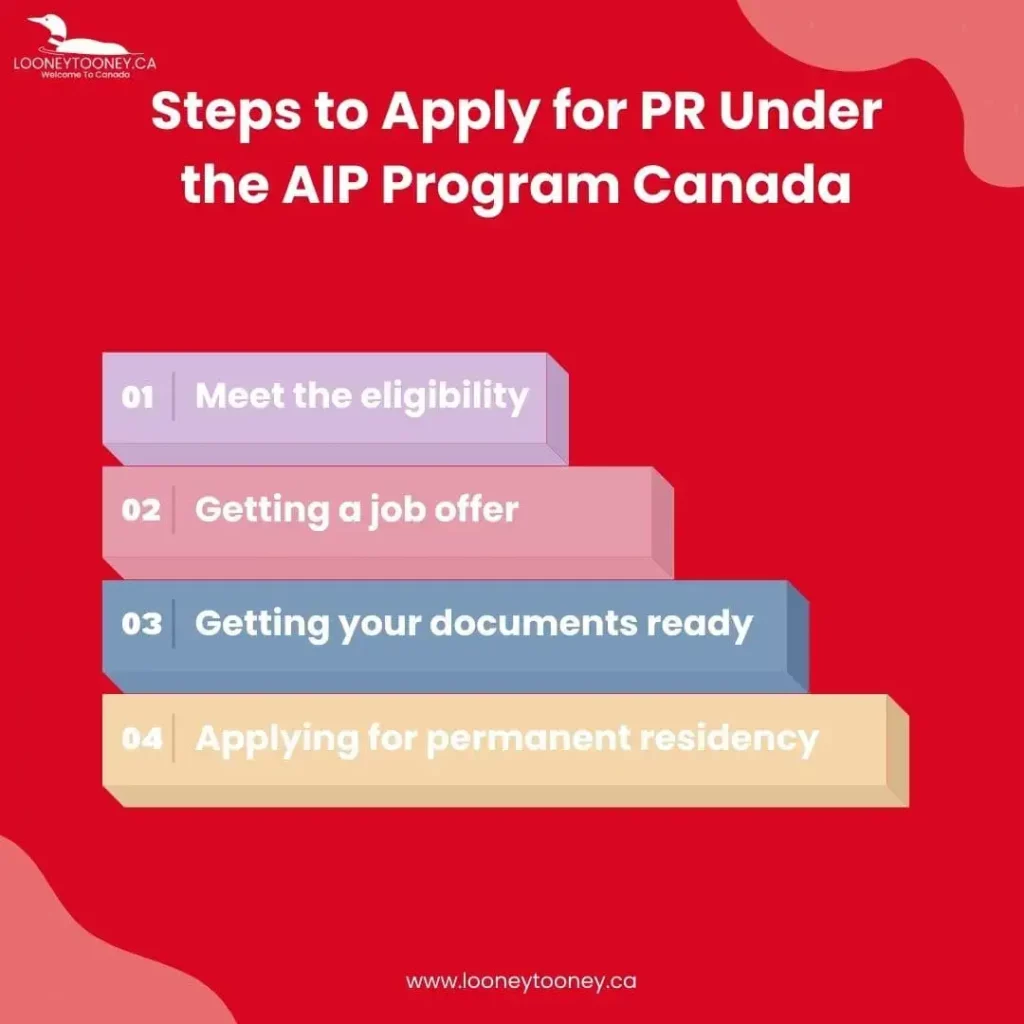 Meet the eligibility requirements
Getting a job offer
Getting your documents ready
Applying for permanent residency
---
---
Who can Apply for the Atlantic Immigration Program?
In order to be eligible to apply for the program, a candidate must satisfy the following AIP requirements.
Have qualifying work experience, unless you're an international graduate of a recognized post-secondary institution in Atlantic Canada
Fulfill or surpass the academic requirements.
Satisfy or surpass the language requirements.
You must prove that you can provide for yourself and your family in Canada.

You don't have to provide documentation if you already have a work permit that allows you to live and work in Canada.
If you comply with the above conditions, you can start finding employment options with a designated Atlantic employer.
1.1. Qualifying Work Experience
You should have worked at least 1,560 hours in the last 5 years. This is equivalent to the number of hours you would have worked in 1 year if you were employed for 30 hours per week.
Below are the methods to calculate your qualifying work hours.
Include the paid work hours from both part-time and full-time employment.
Exclude work hours from self-employment; they won't be considered.
You can count work hours from jobs performed either within Canada (with proper work authorization) or outside Canada.
Work hours acquired while studying can be counted, provided they do not exceed the authorized limit.
Your work should also fall under one of these Training, Education, Experience, and Responsibilities (TEER) National Occupational Classification (NOC) 2021 categories. It is essential to note that your work experience must contain the activities and responsibilities described in your NOC.
The categories are listed as follows:
TEER
Categories included
TEER 0
Managerial positions like restaurant or mining managers
TEER 1
Professional occupations like those of physician or architect
TEER 2
Technical roles and skilled career options demand at least two years of college.
Ex: Technicians in medical laboratories
TEER 3
Technical roles and skilled crafts need more than six months of on-the-job training but less than two years of college education.
Ex: Bankers
TEER 4
Intermediate positions that require several weeks of job-specific training like long-haul truck drivers
1.2. International Graduates
You do not need the criteria for work experience if you are an overseas graduate who:
has completed at least two years of study to get a degree, diploma, certificate, trade certification, or apprenticeship certification.
comes from a recognized post-secondary school in one of the four Atlantic provinces.
was a full-time student during your whole academic career.
has resided in any of the Atlantic provinces for a minimum of 16 months in the two years before graduation.
had the necessary documentation to work, study, or pursue training while in Canada.
2. Academic Requirements
You need one of the following educational prerequisites:
If you have a job offer in the NOC 2021 TEER 0 or 1 category, you must have a one-year-long Canadian post-secondary degree or its equivalent from outside Canada.
You must have a Canadian high school diploma or its equivalent from outside of Canada to be hired in the NOC 2021 TEER 2, 3, or 4 categories.
If you studied outside of Canada, you must have an educational credential assessment (ECA) to verify that your studies are on par with or beyond the level of education necessary for your job offer.
The ECA report must not be older than five years when the AIP receives your application.
3. Language Specifications
You must fulfill the minimal language standards to accept your employment offer based on the NOC 2021 TEER category. The standards can either be:
Canadian Language Benchmarks (CLB) or
Niveaux de compétence linguistique canadiens (NCLC)
The required minimum language level for each NOC 2021 TEER category is
CLB/NCLC 5 for TEER 0, 1, 2 or 3
CLB/NCLC 4 for TEER 4
Along with your application, you must include the test results from a designated language testing company. When you apply, these test results must be no older than two years.
4. Settlement Funds
You must have financial support to sustain yourself and your family in Canada. The size of your family will determine how much you require.
If you are currently residing and working in Canada with a valid work permit, you need not provide proof of your financial stability.
The necessary funds are determined by your family size, including yourself, spouse, dependent children, and their dependents, regardless of their citizenship or whether they are accompanying you to Canada. Refer to the table below for the minimum amounts as of April 25, 2023.
| | |
| --- | --- |
| Number of family members | Funds required |
| 1 | $3,439 |
| 2 | $4,281 |
| 3 | $5,263 |
| 4 | $6,391 |
| 5 | $7,248 |
| 6 | $8,175 |
| 7 | $9,101 |
| For each additional family member beyond 7 | $926 |
How to Secure a Job under the Atlantic Immigration Program?
To be eligible for permanent residency under the Atlantic Immigration Program (AIP), it is necessary to receive a job offer exclusively from a designated employer within the Atlantic region. If you meet the eligibility criteria, you can proceed to apply for a job position with a designated employer.
You can access the list of all designated employers in each of the Atlantic provinces to aid your job search process from below.
The employment offer must fulfill each of the following conditions:
The offered position must be full-time.
The work must not be seasonal.
The employment offer cannot be made by an organization in which you, the applicant, your spouse, or your common-law partner have a majority stake.
The company must be giving you a job that will remain for at least a year after you become a permanent resident if you are applying for a position under NOC 2021 TEER Category 0, 1, 2, or 3.
The firm must be giving you permanent work, which means there is no defined termination date, for an employment offer to fall under NOC 2021 TEER 4 category.
A designated employer will provide you with an Offer of Employment to a Foreign National form when they make you an employment offer. You have to:
Make sure you adhere to the National Occupational Classification's employment criteria.
Make a copy for your records and sign the Offer of Employment to a Foreign National form.

This form is required for your permanent residence application as well as when you interact with a service provider organization on your settling plan.
What documents are required for Atlantic Immigration Program PR Application?
You should start having your documentation ready as soon as possible to prevent delays when you apply for permanent residency in Atlantic Canada.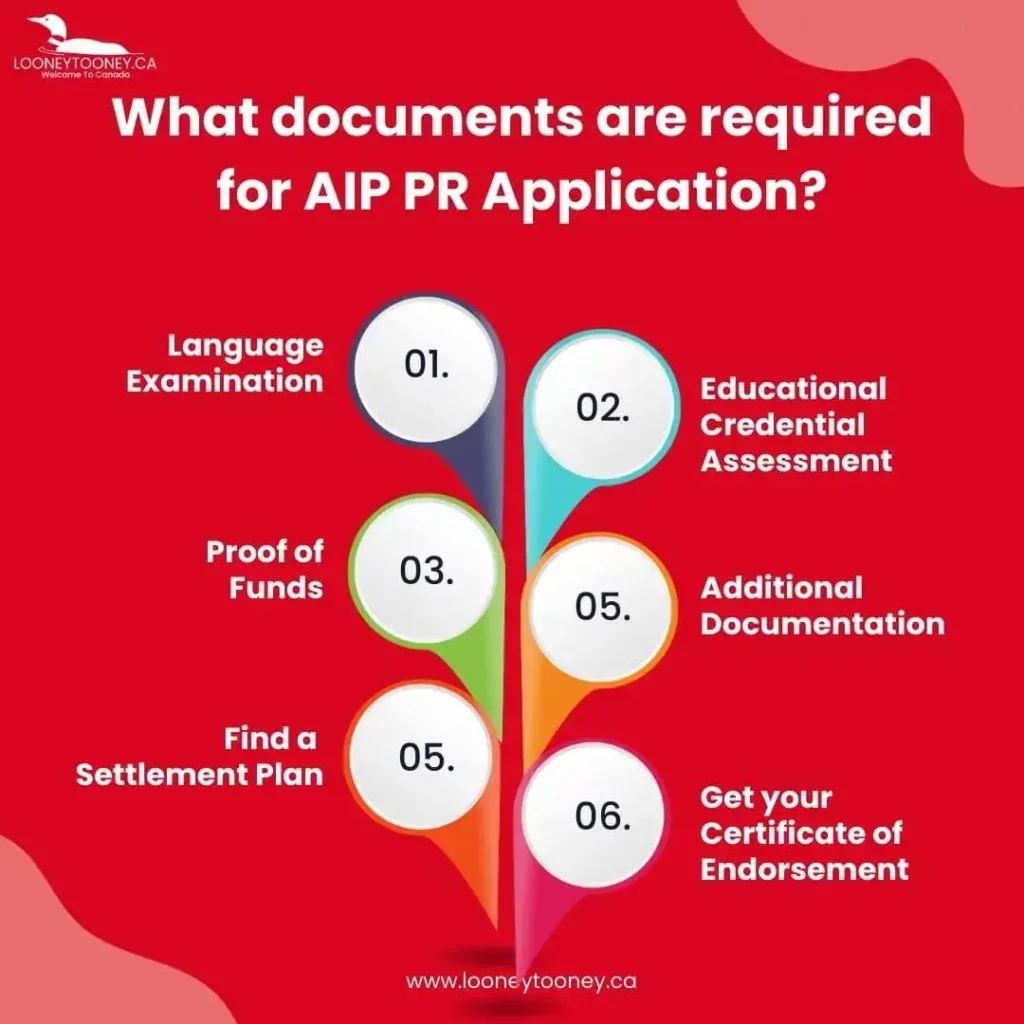 (a) Language Examination
A language exam is required, and the results must be submitted with your application. You have to take this examination even if you studied in Canada.
Become familiar with the language examination for the AIP program Canada.
(b) Educational Credential Assessment
You require an Educational Credential Assessment (ECA) report if you completed your education abroad. This study compares your educational background to that of Canadian students.
(c) Proof of Funds
If you are immigrating to Canada, you have to submit proof of your financial background.
(d) Additional Documentation
You also need to submit additional documents with your application. Make sure you have all the required documentation by using the checklist in the application guide.
(e) Find a Settlement Plan
Once a designated company extends you a job offer, you have to arrange a settlement plan.
You and your family will benefit from a settlement plan as you settle into your new residence in Atlantic Canada. It will provide you access to useful connections and services that will make you feel at home in your new neighborhood. The service plans are free of cost.
When you have your settlement plan ready, give a copy of your settlement plan to your employer and a copy to yourself.
(f) Get your Certificate of Endorsement
The province has to endorse your employment offer after receiving your settlement plan. Your employer manages your endorsement procedure. You have to await confirmation from the employer that your offer has been accepted before submitting your application for permanent residency.
A Certificate of Endorsement will be mailed to you if the province approves your employment offer. Your application for permanent residency must be accompanied by your endorsement certificate.
---
---
How to apply for Permanent Residence?
Step 1: Prepare to apply online.
Create an account on the Permanent Residency Online Application Portal or sign in.
Step 2: Complete your forms
You must complete the following online digital forms
Generic Application Form for Canada (IMM 0008)
Schedule A – Background/Declaration (IMM 5669)
Additional Family Information (IMM 5406)
Supplementary Information – Your travels (IMM 5562)
Step 3: Pay your fees online
Most of the time, you have to pay a biometrics fee with your application fees. If the fee is not paid, then there can be delays. The cost of taking a digital picture and gathering fingerprints is covered by the biometrics fee.
Step 4: Submit your application
When you apply, you have to:
Answer all essential questions.
Sign your application online using the exact same name that appears on your passport.
Include your receipt for the processing cost
Upload all the supporting documentation in one place
If your application is not complete, then your application will be rejected. In such cases, you can correct your mistakes and you can submit them again.
Once your application is submitted, the government will review your application and check if you have uploaded the required documents and paid the fees. The IRCC will verify the authenticity of your information. Before you relocate to Canada, you must undergo a medical examination. All your family members will be required to take up the examination even if they aren't traveling with you.
Post-Approval: Atlantic Immigration Program Application
If your application is accepted, you will receive:
Confirmation of Permanent Residence (COPR)
Permanent residence visa (if you are from a nation that requires a visa)
For those who are already in Canada:
Make sure you have accurate information.
You must affirm your status as a permanent resident.
If you are from outside of Canada, you must have:
Your current passport and/or other travel documentation
A copy of your COPR, which confirms your permanent residence
Evidence that you will be able to support yourself and your family financially once you arrive in Canada
Once you are a permanent resident of Canada, you will receive an e-CORP which will be available to you through the portal. You can provide documentation of your new status in Canada through the portal to get your Permanent Resident (PR) Card.
You can use your signed COPR in the interim while you wait for your PR card. Meanwhile, you have to:
Demonstrate your status as a permanent Canadian resident.
Apply for government programs and services, for example, your social security number so that you may work
The Atlantic Immigration Program stands as a shining example of how targeted and collaborative immigration strategies can rejuvenate regional economies and enrich cultural diversity. By attracting skilled talent and international graduates to the Atlantic provinces, the program has addressed labor market shortages, promoted population growth, and paved the way for a prosperous future for both newcomers and their host communities. As the AIP continues to evolve and adapt to changing needs, it serves as a model for other regions seeking to harness the transformative power of immigration.
FAQs: Atlantic Immigration Program
Here are some frequently asked questions about the Atlantic Immigration Program:
Q. What is an Atlantic Immigration Program?
A. The Atlantic Immigration Program is a route to obtain permanent residency designed for skilled foreign workers and international graduates from Canadian institutions who wish to reside and work in one of Canada's Atlantic provinces: New Brunswick, Nova Scotia, Prince Edward Island, or Newfoundland and Labrador.
Q. Who is eligible for the AIP?
A. To be eligible for AIP, you need to have work experience, academic credentials, language proficiency, financial stability, and a job offer from a designated employer.
Q. What documents are required for the AIP PR application?
A. You will need language exam results, an educational credential assessment, financial evidence, additional documents as per the checklist, and a settlement plan.
Q. What's the AIP application processing time?
A. According to the government website, it's currently 12 months. However, this can vary due to application volume, completeness, and verification ease.
Q. How can I get a job offer under the AIP?
A. Ensure you meet eligibility criteria, then actively look for designated employers in the Atlantic provinces and secure a job offer.
We believe that this article about the "Atlantic Immigration Program" has offered you valuable insights. If you are eager to explore more about this immigration program, be sure to visit LooneyTooney.ca. Stay informed with the latest updates and in-depth information!
Check out other related articles: