Are you ready to enter a culturally diverse metropolitan city, where dreams take flight, and every street corner invites you to create your extraordinary story? Toronto is a city that embraces the diversity, and ambitions of students and professionals. The city has a diverse array of best neighborhoods, each with its own unique character and rhythm of life. Choosing the best neighborhoods in Toronto be a daunting task, especially if you are new to Canada. This article will help you find the best areas to live in Toronto.
You might be wondering "Where to begin and how to begin this journey?" Don't worry! We got you covered. Let's embark on this wonderful journey together and discover Toronto's best areas and housing options that cater to your desires. Scroll down to learn more about the best places to live in Toronto, Canada for first-time visitors, students, and professionals.
---
Table of Contents:
---
Best Areas in Toronto for Travelers or First-Time Visitors
Depending on your stage of life or family circumstances some areas of our beautiful city may appeal more to you than others. But if you are coming to the city for the first time or you are coming to visit as a traveler, your best bet is to stay close to public transport and the city's must-see attractions.
1) Downtown Toronto
Downtown is the commercial and touristy heart of the city. Not only is it very well covered by subway, street cars, and buses, but it is also very walking friendly. When you stay downtown you can easily travel to the other parts of the city and the neighboring suburbs to explore where you want to live in the long term. You are also in the midst of many great attractions the city has to offer – Ontario Lakeshore, CN Tower, Aquarium, Royal Ontario Museum, and many more. There are events going on all around downtown in each season. You can access the best theatres, diverse eat-out options, and excellent shopping too.
Exploring Beyond the Basics
Harborfront and Islands: Take a ferry ride to Toronto Islands, a peaceful escape from the city's hustle and bustle. Enjoy picnics, beaches, and stunning views of the skyline. The Harborfront area offers scenic promenades, outdoor concerts, and waterfront dining.
Historical Landmarks: Explore Fort York, a historic site that sheds light on Toronto's early military history, or St. Lawrence Market, one of the oldest markets in North America, for a foodie's delight.
2) Midtown and Uptown Toronto
Just north of downtown, we have midtown and uptown Toronto areas that are much preferred by families. Midtown and uptown retain the benefit of good public transport but you get a little of the hustle and bustle of downtown. These areas have nice parks, good restaurants, and excellent public schools.
Exploring Beyond the Basics
Recreation and Parks: Highlight green spaces like High Park in the west, known for its lush gardens and free outdoor performances, and Sunnybrook Park in the east, a serene spot for picnics and hiking.
Educational Institutions: Midtown and Uptown boast renowned academic institutions like the University of Toronto and York University. Visitors interested in academia can explore these campuses.
Best Neighborhoods in Toronto for Students
As a student in Toronto, you have a plethora of options at your fingertips. However, you need to identify the perfect environment to flourish in your curriculum and embrace the diversity of the city. Following are some of the best neighborhoods in Toronto for students.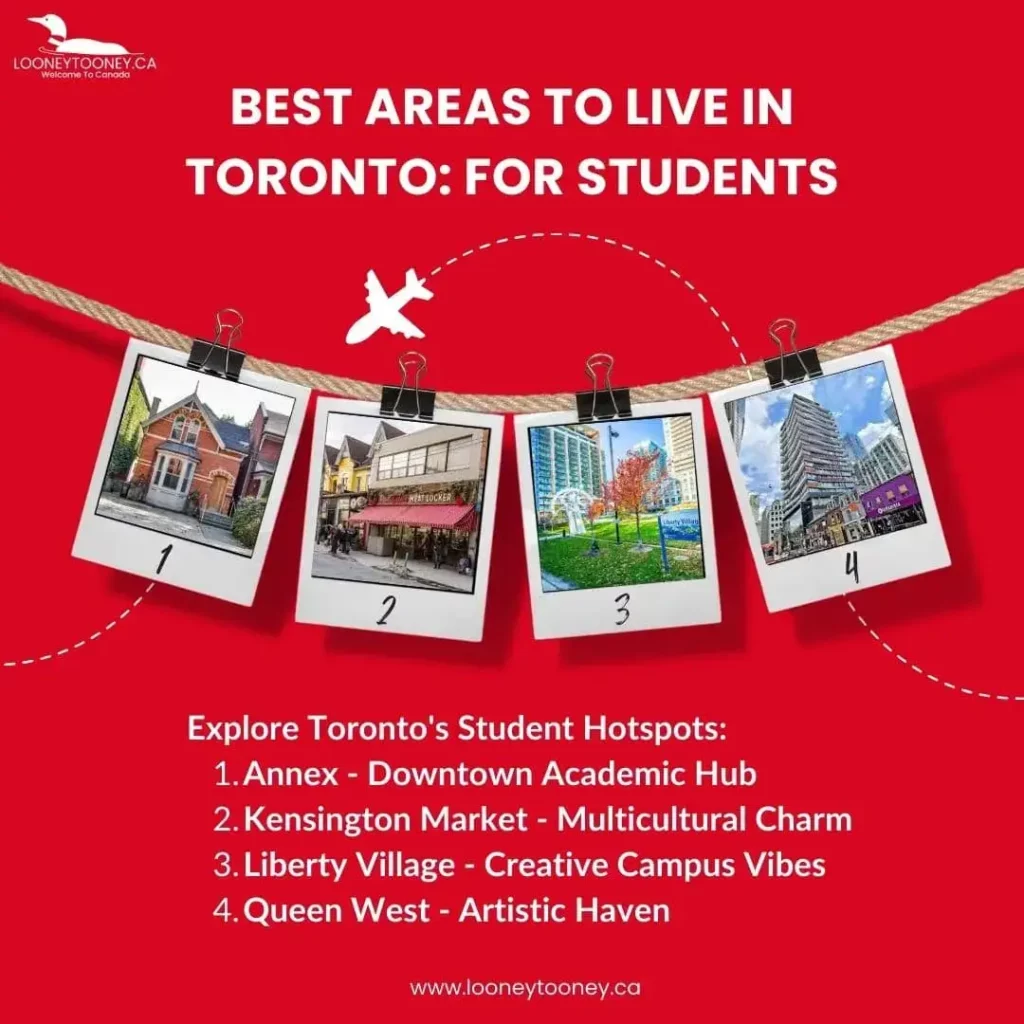 1. Annex
The Annex is a neighborhood in Downtown Toronto. This lively area attracts students to its indie bookshops, casual eateries, and cafes on Bloor Street West. A variety of student-friendly housing, including affordable apartments, shared rental houses, and dorm-style accommodations are accessible near the University of Toronto, Ontario, Canada. Here, students enjoy easy access to necessary resources while thriving in a vibrant academic community.
2. Kensington Market
Kensington Market is a multicultural neighborhood, situated in the heart of downtown Toronto. This lively neighborhood is cherished by both Torontonians and visitors. This area is known for its friendly locals, family-friendly Pedestrian Sunday events, colorful shop-fronts, vibrant murals, and over 240 unique and eclectic businesses. This place offers various housing options for students, including shared apartments, affordable lofts, and rooms for rent in charming Victorian homes. Affordable restaurants, vintage shops, and unique boutiques abound in this area.
3. Liberty Village
Located in the bustling city of Toronto, Ontario, Liberty Village is a vibrant neighborhood renowned for its creative atmosphere. With a youthful, campus-meets-condo ambiance, Liberty Village is brimming with Gen Z and millennial energy. Liberty Village provides modern condo living and shared apartments for students who prefer a trendy and dynamic living environment. Exploring dynamic cafes, microbreweries, and artistic events, helps students to embrace campus life and exciting career prospects.
4. Chinatown
Chinatown, Toronto, Canada is one of the oldest and most dynamic neighborhoods. Chinatown provides shared and affordable accommodations for students seeking an immersive multicultural experience. Additionally, Chinatown is an excellent destination to purchase fresh fruits and vegetables, as your dollar will stretch further in Chinatown than in most other places. With its wide variety of eateries, markets, and cultural events, this location is a haven for the adventurous.
5. Queen West
Queen Street, an east-west thoroughfare in Toronto, extends from Roncesvalles Avenue and King Street (west) to Victoria Park Avenue (east). It has a wide variety of trendy lofts and shared apartments, making it an appealing choice for students with a deep passion for art, music, and creativity. Students can experience the bohemian spirit, enjoy captivating performances, and connect with fellow artists in this artistic haven.
---
---
Best Areas to Live in Toronto for Professionals
As a working professional, you need to find the best neighborhoods in Toronto that supports your aspirations while promoting a healthy work-life balance. Toronto is the perfect place to succeed in your professional journey, from upscale neighborhoods with luxury living to vibrant districts stimulating creativity. Below are some of the best areas to live in Toronto for a professional: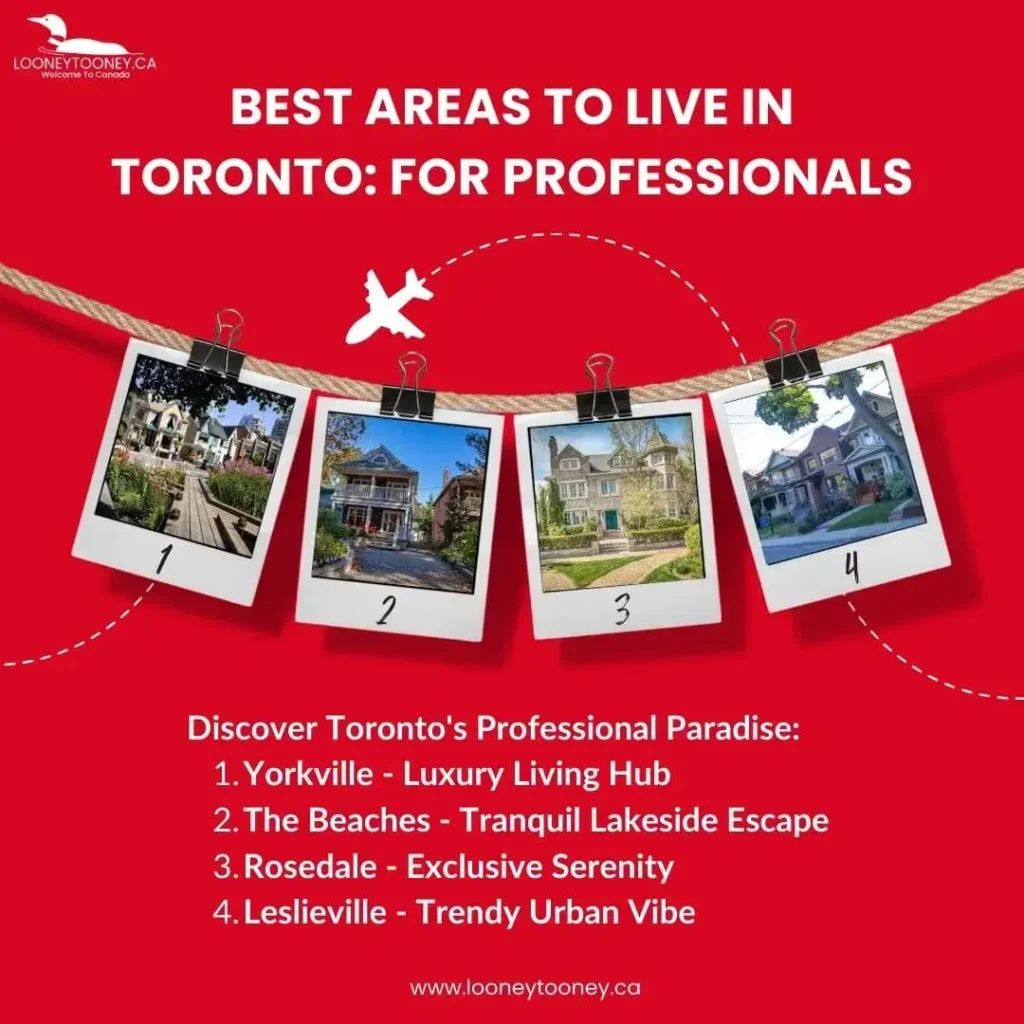 1. Yorkville
Yorkville is a stunning neighborhood and former village in Toronto. Yorkville has a wide variety of luxury condos, high-end apartments, and townhouses suitable for working professionals seeking a refined and elegant living experience. The streets are filled with high-end boutiques, stylish cafes, and exclusive art galleries. Professionals seeking work-life balance will find the neighborhood's close proximity to the Bay Street Financial District offers seamless commutes.
2. The Beaches
The Beaches is a relaxed neighborhood with a small-town vibe. It is the top summer destination, attracting families and tourists to its sandy beaches. The neighborhood provides a variety of housing options, including modern condos, charming cottages, and townhouses with picturesque views of the lake. For professionals seeking tranquility, The Beaches provide a retreat by the shimmering waters.
3. St. Lawrence Market
With its stunning urban surroundings, convenient accessibility, and world-class amenities, St. Lawrence Market stands as one of Toronto's great neighborhoods. This Market caters to professionals searching for a blend of gourmet cuisine and urban living with its modern condos and townhouses. You can also explore an eclectic mix of restaurants, boutiques, and cultural events that will satisfy the palette and the soul. Furthermore, St. Lawrence Market also offers a lovely fusion of modernism and tradition for businesspeople looking for a sophisticated urban experience.
4. Rosedale
Rosedale located in the north of Downtown Toronto is one of its oldest suburbs. In Rosedale, working professionals can find elegant townhouses, luxurious homes, and upscale condos, offering an exclusive and serene living environment. If you seek a refined retreat, Rosedale sets the stage for a sophisticated and peaceful lifestyle. This place is also known for its upscale elegance and leafy streets, providing a peaceful escape from the city's hustle while remaining close to downtown.
5. Leslieville
Leslieville is a neighborhood in Toronto, situated east of the Don River. Professionals seeking a vibrant and trendy urban neighborhood will find Leslieville to be a trendy and inspiring locale. This place has various modern lofts, stylish townhouses, and converted warehouses. Leslieville's unique blend of family-friendly charm and hip ambiance made it one of the city's most sought-after neighborhoods for young families to live in.
Key Tips for a Seamless Transition to Best Neighborhoods in Toronto
Moving to a new city can be both exciting and troublesome. In order to help you out, we have provided some important tips to ensure a smooth and successful transition to life in Toronto.
Be familiarized with Toronto's public transportation system, including subways, buses, and streetcars.
Make sure that you have proper health insurance coverage. Note that newcomers in Toronto may require additional health insurance until they are eligible for provincial healthcare.
Be prepared for the diverse weather in Toronto, which can range from hot summers to cold winters. It is essential to buy proper clothing and equipment to stay comfortable.
Take part in local events, clubs, and community activities to build connections and make new friends.
Create a well-planned budget to manage expenses efficiently and enjoy the vibrant lifestyle of Toronto.
Keep up with local news and events to stay connected with the city's latest developments and opportunities.
Types of Accommodation Across Best Neighborhoods in Toronto
Let's check out the housing options available in Toronto before getting into details of the best places to live in Toronto for students and professionals. The city offers a range of housing types, including:
Apartments and Condominium (condo): Modern Living
These high-rise buildings are popular among students and professionals, offering convenience, city view, and a wide range of amenities.
Shared Accommodations: Bonding and Savings
Generally, students and professionals alike find shared accommodations to be a budget-friendly and sociable option. They can share a larger home or apartment with roommates.
Co-living Spaces: Community Living
Explore the world of co-living spaces where social gatherings and shared experiences bring your urban dwelling to life.
Houses and Townhouses: Charming Communities
Houses and townhouses are the best choices for community-driven living. Enjoy privacy, neighborhood charm, and the perfect retreat for individuals and families seeking solace.
Rental Units: Flexibility
Renting offers a variety of options, from fully furnished to unfurnished units. Choose your unit according to your needs and budgets.
By understanding these types, you can discover your perfect haven, embrace Toronto's diversity, and begin your journey.
Your Toronto Journey Awaits!
You have explored some of best areas to live in Toronto and unique housing options. Unleash your aspirations as you explore the artistic charm of Kensington Market and the refined luxury of Yorkville, with each area extending an invitation to pursue your dreams. As you begin your journey, let the vibrant energy and boundless opportunities of Toronto fuel your dreams.
FAQs Related to Best Neighborhoods in Toronto
Below, we have compiled some frequently asked questions to assist you in exploring the city and making informed decisions for your new adventure in Toronto.
Q. Where is the best area to live in Toronto for students?
A. The top neighborhoods for students in Toronto are The Annex, Kensington Market, Liberty Village, Chinatown, and Queen West.
Q. Which neighborhoods in Toronto are ideal for working professionals?
A. Ideal neighborhoods for professionals in Toronto include Yorkville, The Beaches, St. Lawrence Market, Rosedale, and Leslieville.
Q. Where do most Indians stay in Toronto?
A. Approximately 51% of the Indian Canadian population calls the Greater Toronto Area home, with the majority residing in Brampton, Markham, Scarborough, Etobicoke, and Mississauga.
Q. Where is the cheapest place to live in Toronto?
A. The cheapest places to live in Toronto include Scarborough, East York, Weston, West Humber-Clairville, Rexdale-Kipling, York University Heights, Black Creek, and Woburn. These neighborhoods often offer more affordable housing options compared to some other areas in the city.
Q. What types of accommodation are available in Toronto's neighborhoods?
A. Toronto offers apartments/condos, shared accommodations, co-living spaces, houses/townhouses, and rental units to suit various preferences and budgets.
We hope this article on the best neighborhoods in Toronto was useful to you. To know more about Canada Immigration stay tuned to LooneyTooney.ca. Keep yourself tuned in for the most recent updates!
You may also be interested in: