Are you ready to start your exciting academic journey in Canada as an international student? As you prepare for this new chapter, there's one important aspect that might be on your mind: managing your finances abroad. Getting a student bank account is one of the initial requirements for international students in Canada. This will serve as a crucial asset during your upcoming years, so you need to choose a bank that offers the best services and benefits for your needs.
The pages ahead hold the key to unlocking essential information, addressing queries about opening a student bank account, understanding credit options, and identifying the top banks tailored to cater to the needs of students like you. Let's delve into a journey of financial empowerment, ensuring that the decisions you make today lay the foundation for a secure and successful academic future. Continue reading to gain further insights into student banking options in Canada.
---
Table of Contents:
---
Getting Started With Student Bank Account in Canada
The majority of Canadian banks provide free fundamental banking services to full-time students. In other words, there is no fee for maintaining chequing accounts, but a few limitations or prerequisites may apply. It's essential to review all the details before initiating an account setup.
Prior to starting your search, consider what banking services you will need. You might find a basic chequing account suitable for everyday transactions such as withdrawals and deposits. Furthermore, having a savings account could be beneficial for keeping funds separate. In Canada, several student banking packages allow you to conveniently open both chequing and savings accounts, accessible with a single debit card.
What Are the Types of Student Bank Account in Canada?
In Canada, there are two main types of bank accounts designed for different needs: Chequing accounts and savings accounts.
1. Chequing Account
A chequing account is an essential basic account in Canada, used for everyday banking needs, such as frequent expenses, making purchases, and handling recurring expenses. Typically, this account earns a low or no yearly interest rate on deposits. You may also receive a debit card to access the funds in your chequing account. However, keep in mind that using a debit card to withdraw cash from an ATM of a different financial institution might incur fees.
2. Savings Account
On the other hand, a savings student bank account is designed to help you save money over the longer term. It is not intended for regular, everyday spending transactions. Instead, it's ideal for setting aside money that you won't need daily access to, such as savings for emergency funds or longer-term financial goals. Savings accounts usually offer higher interest rates compared to chequing accounts. However, there may be limitations on the number of monthly withdrawals allowed from this account.
How To Open a Student Bank Account in Canada?
Here are some general guidelines to follow when opening a student bank account online in Canada: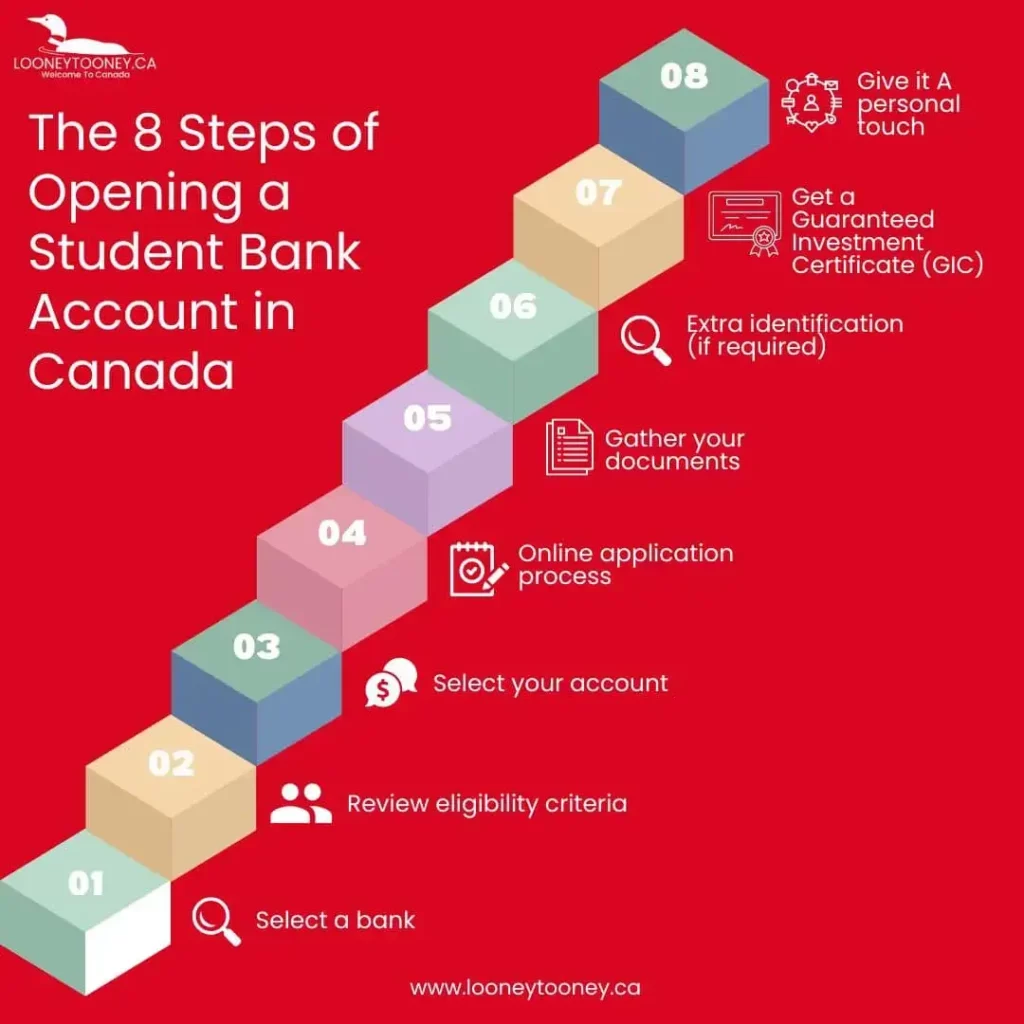 Select a bank: Start by researching various Canadian banks. Compare fees, account types, interest rates, and other features to find the best fit for your needs.
Review eligibility criteria: Before applying, ensure that you meet the bank's eligibility requirements, such as age, residency status, and credit history.
Select your account: Choose the type of account that aligns with your financial requirements and personal preferences.
Online application process: Visit the website of your chosen bank and initiate the account application online. This involves sharing personal details and information about your upcoming stay in Canada.
Gather your documents: Assemble essential documents including your valid passport, student visa, acceptance letter from your Canadian educational institution, and proof of Canadian address if you have one.
Extra identification (if required): Some banks may ask for additional identification, such as a driver's license or a valid ID card.
GIC: Indian students often need to showcase proof of purchasing a Guaranteed Investment Certificate (GIC) when applying for a study permit. This proves their ability to financially support their living expenses in Canada.
A personal touch: Although the initial steps are online, certain banks may require you to visit a branch once you are in Canada to finalize your account opening.
Opening an online bank account in Canada is a simple process. By following these steps and providing the required information, you can quickly and easily open a new bank account from the comfort of your home.
What is the Eligibility to Open a Student Bank Account in Canada?
The requirements may vary among different banks, so it's important to verify the specific requirements of your bank before you proceed. Ensure that you have the following documents readily accessible:
Valid passport
Valid study permit or acceptance letter from a Canadian educational institution
Proof of Canadian address (if available)
Additional identification (if required by the bank)
Proof of GIC purchase (if applicable)
Can a Student Get a Credit Card Using the Bank Account?
In Canada, banks usually offer three types of credit cards: Visa, MasterCard, and American Express. It is important to note that not all stores and restaurants, accept American Express. Thus, opting for Visa or MasterCard is advisable for enhanced payment flexibility.
Credit cards offer convenience as they eliminate the need to carry physical currency for transactions. But you need to be careful because you are borrowing money, and the interest can be high. If you don't pay back most of what you owe every month, your debt can grow quickly. Before getting a credit card, review all the terms and conditions carefully. It's important to find one with the lowest interest. Even if you don't plan to use a credit card a lot, having one can help you build a good credit score in Canada.
Also, there are other options, like a student loan or a line of credit. These usually have lower interest rates than credit cards, but sometimes you need to give something valuable as a guarantee. If you don't pay back the loan, you might lose that valuable item and have to pay even more interest. Just like with a credit card, make sure you understand what you are agreeing to before you get a loan or line of credit.
What Are the Best Banks for Students in Canada?
Here are some of the top banks known for their student-friendly services and offerings: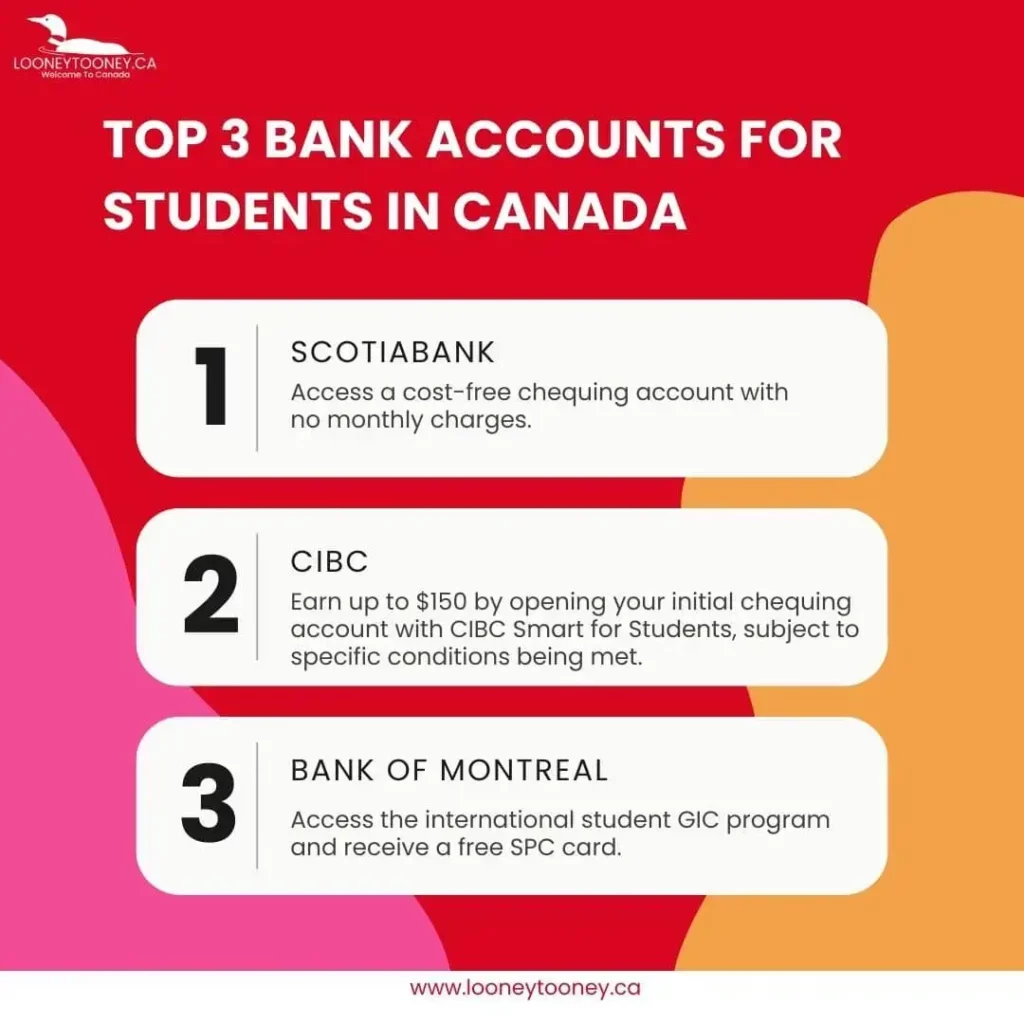 1. Scotiabank
Scotiabank, formally referred to as Bank of Nova Scotia, is one of Canada's largest banks. It offers a wide range of banking services, including savings accounts, credit cards, and loans. Scotiabank's commitment to student-friendly services has made it a popular choice among international students.
Benefits
The following are some perks you will receive at Scotiabank as an international student:
Unlimited international money transfers without any fees.
Benefit from a movie rewards program when using Scene debit and credit cards.
Access a cost-free chequing account with no monthly charges.
Send and receive Interac e-transfers without limitations, free of charge.
Obtain an unsecured credit card with a maximum limit of $5,000.
2. Canadian Imperial Bank of Commerce (CIBC)
The Canadian Imperial Bank of Commerce (CIBC) stands as one of Canada's largest and most renowned banks. With a history spanning over 150 years, the bank extends attractive offers to international students in Canada. CIBC offers diverse financial services, ranging from banking and credit cards to investments and wealth management. In collaboration with SPC, CIBC offers a complimentary SPC membership that grants discounts of up to 30% at Canadian stores.
Benefits
CIBC extends the following benefits to international students as well:
No monthly banking fees.
Free Interac e-transfers while pursuing your studies in Canada.
You also have the opportunity to earn up to $150 by opening your initial chequing account with CIBC Smart for Students, subject to specific conditions being met.
Facilitated international money transfers with zero transfer fees to over 120 countries through CIBC Global Money Transfer.
Access to a student credit card without any fees, which doesn't require an existing credit history.
Engage in the refer-a-friend program, allowing you to receive $25 as a reward.
3. Bank Of Montreal (BMO)
The Bank of Montreal (BMO) is one of Canada's oldest banks. It provides a broad spectrum of banking services, including personal and commercial banking, investment solutions, and insurance products. BMO's "Performance Plan for Students" offers unlimited transactions and free Interac e-Transfers, making daily banking hassle-free for international students.
Benefits
BMO offers many advantages for international students. They include the following:
Enjoy free banking throughout your academic journey, plus an additional year with no charges after you complete your studies.
Free and unlimited international transfers for a year.
Student credit card options without annual fees.
Benefit from standard credit card interest rates and free e-transfers.
Access the international student GIC program and receive a free SPC card.
Complimentary safety deposit box for a year.
FAQs: Student Bank Account in Canada
Here are some common questions and answers regarding opening and managing student bank accounts in Canada:
Q. Which Canadian bank is best for students?
A. The top choices for student banking in Canada are Scotiabank, CIBC, and BMO. They stand out due to benefits such as no monthly fees, free transfers, and credit card availability.
Q. Can I open a bank account in Canada as a student?
A. Yes, you can open a bank account in Canada as a student. It's essential to have a valid student ID, and you may also need to provide other acceptable forms of identification.
Q. How much GIC in Canada for international students?
A. The Canadian embassy suggests a minimum of CAD 10,000 as the required GIC amount for obtaining a Canada student visa. All applicants are obligated to deposit this GIC amount to support their visa application.
Q. What are the main types of bank accounts available for students in Canada?
A. Chequing account is for daily transactions, lower interest. While, the savings account is for long-term saving, higher interest, and limited withdrawals.
Q. Can international students in Canada get a credit card, and what should they consider before applying for one?
A. Yes, they can. Consider interest rates and paying off most of the balance monthly to avoid high-interest charges.
Wrapping Up – Student Bank Account in Canada
In the journey of pursuing education in Canada, having a solid grasp of the banking system and credit options is essential for your financial well-being. Having a student bank account will also be beneficial if you are going to take up a part-time job to cover your expenses. Additionally, if you are an international student, make sure that you have a valid student work permit.
Leverage these student-oriented Canadian banks that not only provide exemptions on international money transfer fees and discounts, but also extend additional advantages such as bonuses, complimentary credit scores, limitless debit transactions, Interac e-transfer capabilities, and more. Don't miss out on these perks while pursuing your education in Canada.
If you are looking for more information about Canada Immigration, keep a close watch on LooneyTooney.ca. By staying connected, you will gain access to invaluable insights and stay up-to-date with the latest developments. Your journey toward informed decisions begins here!
You may also be interested in: