Canada, with its breathtaking landscapes, diverse cultures, and endless opportunities, is a dream destination for many. If you are accompanying your spouse who is pursuing a career or education in this country, you are likely excited about the new chapter ahead. To make the most of your Canadian experience, taking advantage of the Spouse Open Work Permit Canada is a prudent choice. In this comprehensive guide, we will explore what SOWPs are, who is eligible, and how to apply.
But that's not all! As you delve into the details of SOWPs, we will introduce you to our services that can make your immigration journey smoother and more successful. At LooneyTooney, we are dedicated to more than just providing information. Let us guide you through the intricacies of SOWPs and reveal the various avenues through which we can support you on this path. Continue reading to discover more about the Spouse Open Work Permit in Canada.
---
Table of Contents
---
What is a Spouse Open Work Permit Canada (SOWP)?
The Spouse Open Work Permit (SOWP) is a special type of work permit issued by the Government of Canada. It allows the spouses or common-law partners of temporary foreign workers or international students in Canada to work for any employer in the country during their partner's stay. The SOWP isn't tied to a specific job, so you don't need a Canadian job offer to get it. You can come to Canada and look for a job after you arrive.
Moreover, employers are not required to obtain a Labour Market Impact Assessment (LMIA) from Employment and Social Development Canada to hire individuals with an open work permit. This simplifies the process for SOWP holders to secure employment in Canada.
---
---
What are the Benefits of a Spouse Open Work Permit in Canada?
A Spousal Open-Work Permit is an apt choice for spouses of individuals working or seeking permanent residency in Canada. Here's a more in-depth exploration of why it can be beneficial:
1) Employment Opportunities: If your spouse possesses a Spouse Dependent Work Permit, they have the opportunity to engage in full-time employment in Canada. This allows them to contribute to the family income and gain Canadian work experience.
2) Language Proficiency Exemption: Unlike some other Canadian immigration pathways, obtaining a Spouse Dependent Work Permit does not require your spouse to undergo the IELTS language competency test. This can simplify the application process.
3) No LMIA or Job Offer Requirement: If your spouse is already in Canada on a valid visa, there is no need for an LMIA (Labour Market Impact Assessment) or a job offer at the time of application. This reduces the administrative burden and makes it more accessible.
4) Quality Time Together: The permit enables you to remain in Canada with your spouse until its expiry, providing the opportunity for meaningful shared experiences while you both work towards your individual aspirations.
5) Extended Stay Possibility: It's possible to lengthen your stay in Canada alongside your spouse by renewing your visa's validity. If your spouse has successfully extended their lawful visa status, this option becomes feasible.
6) Timing Flexibility: Overseas spouses can apply for an open work permit simultaneously with their application for permanent residency through spousal sponsorship. Alternatively, they can apply at any time afterward. This flexibility allows couples to choose the timing that suits their immigration plans best.
Who Can Apply for a SOWP?
Those eligible to apply for a spousal open work permit include individuals who have submitted sponsorship applications by their spouses or those whose spouses currently hold study or work permits in Canada. The specific criteria for obtaining a spousal open work permit are determined by the status of your spouse in Canada. To find out more, please refer to the table below for details:
| | | |
| --- | --- | --- |
| Category | Requirement for the Skill Level of the Applicant's Occupation | Minimum Duration of Work Permit for the Primary Applicant |
| Spouses or common-law partners of Atlantic Immigration Program (AIP) work permit holders | 0, A, or B | 6 months |
| Spouses or common-law partners of Quebec selection certificate (CSQ) holders | Any occupational skill level | 6 months |
| Spouses or common-law partners of Provincial Nominee Programs (PNPs) | Varies depending on the program principal applicant applies under | 6 months |
| Spouses or common-law partners of Bridging Open Work Permit (BOWP) holders | Varies depending on program principal applicant applies under | 6 months |
| Spouses or common-law partners of open work permit holders (excluding BOWP including PGWP, IEC) | 0, A, or B | N/A |
| Spouses or common-law partners of Study Permit holders | N/A | N/A |
| Spousal or common-law sponsorship applicants (In Canada) | N/A | N/A |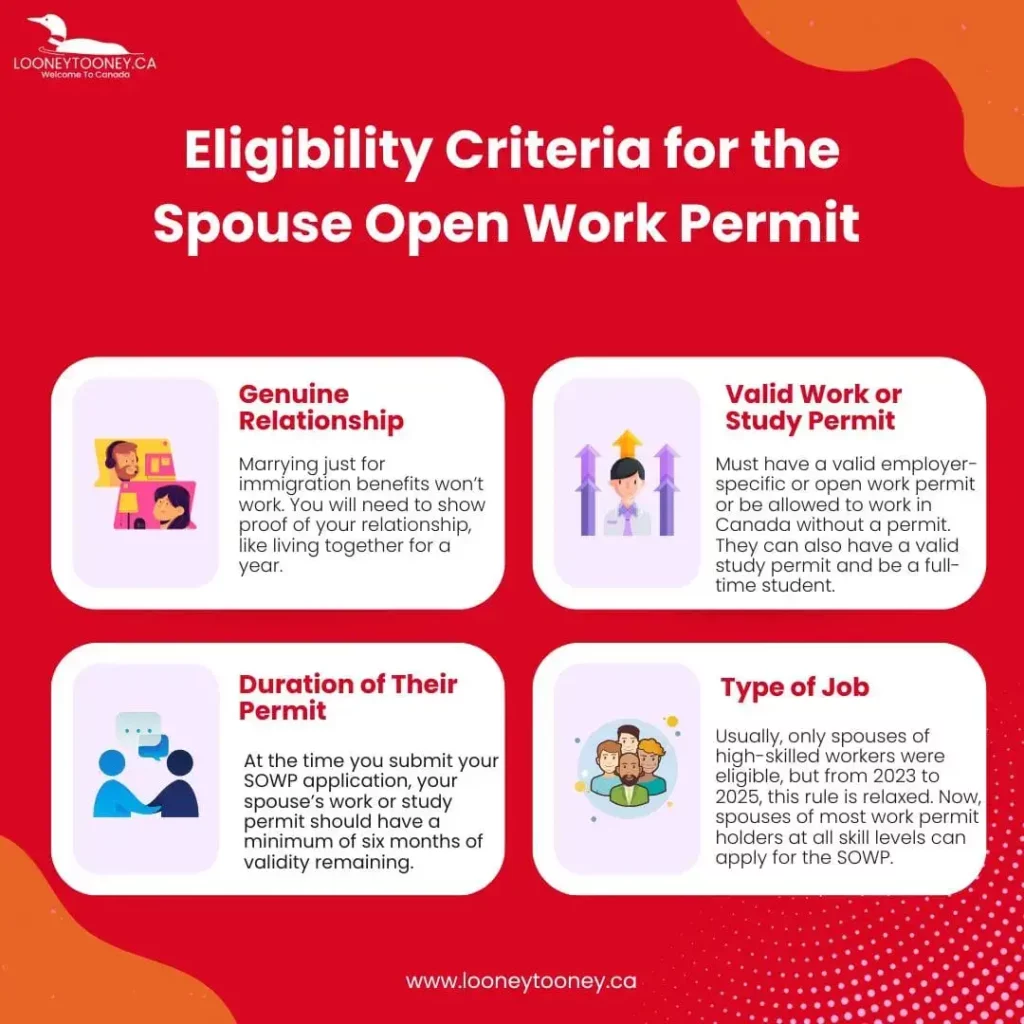 Eligibility Criteria: General Requirements
To apply for a spousal work permit, you need to meet these key requirements:
1) Genuine Relationship: If you are the spouse or common-law partner applying for the SOWP, your relationship with the main applicant must be genuine. Marrying just for immigration benefits won't work. You will need to show proof of your relationship, like living together for a year.
2) Valid Work or Study Permit: Your spouse or common-law partner must have a valid employer-specific or open work permit (non-spousal category) or be allowed to work in Canada without a permit. They can also have a valid study permit and be a full-time student at a Canadian Designated Learning Institution.
3) Duration of Their Permit: At the time you submit your SOWP application, your spouse or common-law partner's work or study permit should have a minimum of six months of validity remaining.
4) Type of Job: Usually, only spouses of high-skilled workers were eligible, but from 2023 to 2025, this rule is relaxed. Now, spouses of most work permit holders at all skill levels can apply for the SOWP.
You might be eligible if your spouse or common-law partner:
Is employed in any job in Canada categorized under TEER categories 0, 1, 2, 3, 4, or 5, with the exception of TEER 4 or 5 positions within the low-wage stream of the Seasonal Agricultural Worker Program and the Agricultural Stream of the Temporary Foreign Worker program.
Has an open work permit in Canada.
Applied for permanent residency under an economic class immigration program and has a valid work permit.
Remember, rules for spousal open work permits can change, so stay updated on the government website before applying.
Documentation Required to Apply for a SOWP
Once you have confirmed your eligibility for a Spousal Open Work Permit, it's time to assemble the necessary documentation to streamline your application process. Here's a checklist of the documents you will need:
Proof of Genuine Relationship: This includes a marriage certificate or a declaration of common-law relationship. You might also need to provide documents like joint property ownership or rental agreements or any other documents that demonstrate shared residency for at least one year.
Proof of Your Spouse's or Common-Law Partner's Canadian Status: Depending on whether your spouse is a work permit holder or a study permit holder, you will need different documents:
For Work Permit Holders: A copy of the job offer or employment contract, copies of the last three pay stubs, and a copy of their work permit.
For Study Permit Holders: An enrollment letter from their Designated Learning Institution, evidence of full-time enrollment in a PGWP-eligible study program and institution, and a copy of their study permit.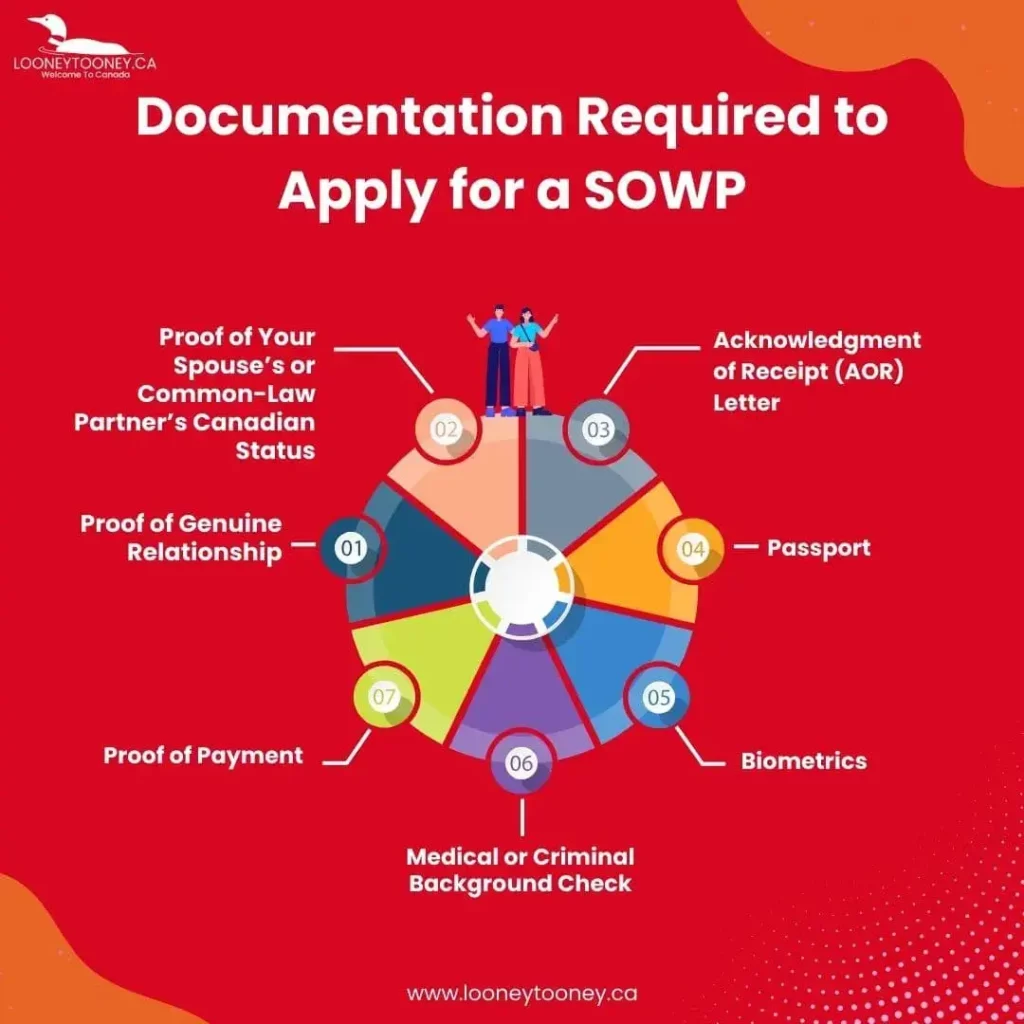 Acknowledgment of Receipt (AOR) Letter: If you have applied for Permanent Residency and your application is still in process, you will need to provide the AOR letter, confirming that IRCC has received and initiated the processing of your application.
Passport: Prior to the SOWP application, make sure to verify the expiration date on your passport. Your work permit's validity is limited to the earlier of either your passport's expiration or that of your spouse's or common-law partner's work permit.
Biometrics: Biometrics are required unless you have already submitted them in the past 10 years as part of a prior application, and they remain valid.
Medical or Criminal Background Check: Depending on your situation, you might be required to submit a medical or criminal background check.
Proof of Payment: You will have to pay the necessary processing fees and include proof of payment with your application.
Gathering these documents systematically will help ensure a smooth SOWP application process.
How to Apply for a Spouse Open Work Permit Canada?
You can submit an application for a Spousal Open Work Permit from either within Canada or outside of it. The IRCC mandates that all applicants apply online, with certain exceptions allowed under specific circumstances. Follow these step-by-step instructions to guide you through the Spousal Open Work Permit Canada application process:
Create electronic copies of your documents, including your passport or any other identity document if you don't possess a passport.
Review the instruction guide before filling out your application. The guide will provide detailed explanations on how to complete each section of the form. If you have any inquiries or need assistance with the SOWP application process, feel free to reach out to us. Contact us to schedule a consultation, and our team will be happy to assist you.
Collect all the necessary documents. You will receive a personalized document checklist when you initiate your online application.
Complete the document checklist and the required forms.
Register for an IRCC secure account or log in if you already have one.
Thoroughly fill out all the necessary forms, paying close attention to each detail. Don't forget to sign and date each form to ensure it is complete and accurate.
Pay the fees and submit your application along with all supporting documents through the online platform.
Simplify Your Application Process with LooneyTooney
Why Choose Us?
At LooneyTooney, we understand the importance of your immigration journey, and we are here to make it as smooth and stress-free as possible. Our team of highly experienced and government-certified Regulated Canadian Immigration Consultants (RCICs) is dedicated to helping you achieve your immigration goals.
Our Services:
1) Personalized Consultation: We offer one-on-one consultations to address your specific needs and concerns, ensuring a tailored approach to your immigration process.
2) Application Review & Filing: Our experts meticulously review and file your applications, leaving no room for errors or delays.
3) Customized Documentation: We assist you in preparing all the necessary documentation, making sure everything is in order for a successful application.
4) Priority Support: Our team is committed to providing you with prompt and efficient support whenever you need it.
5) Restoration & Extension Services: In case of any issues or the need for an extension, we have you covered.
Trust LooneyTooney to be your reliable immigration partner. With our experienced professionals and personalized services, your immigration and visa needs are in safe hands!
---
---
Spouse Open Work Permit Processing Time
The timeframe for processing your Spousal Open Work Permit can fluctuate due to several factors, including the type of permit or visa held by your spouse or common-law partner and the location from which you are submitting your application. For the latest information on processing times, please refer to the government's processing times page.
Validity of Spouse Open Work Permit Canada
The duration of your Spousal Open Work Permit is directly tied to the validity of your spouse's or common-law partner's permit. It will expire on the same date unless your passport reaches its expiration date earlier. Once your passport is no longer valid, your open work permit becomes invalid as well.
If your spouse or partner extends their work or study permit or undergoes a change in status in Canada (such as transitioning from a study permit to a PGWP), you have the option to apply for a new open work permit. However, you cannot extend the validity of your existing spousal open work permit.
Can a Spouse Open Work Permit Be Extended?
A Spouse Open Work Permit Canada is directly connected to the permit of the lead applicant, typically the spouse. It remains valid as long as the lead applicant's permit remains in force. If your SOWP reaches its expiration date, you will need to submit a new application based on your spouse's current permit status.
Unlocking Opportunities: The Spouse Open Work Permit Canada
In summary, the Spouse Open Work Permit Canada is a pathway to diverse opportunities in the land of possibilities. It not only unlocks employment prospects and enriching experiences but also signifies a chance to embrace Canada's rich diversity. Adhering to eligibility criteria, staying updated on evolving regulations, and seeking expert guidance can pave the way for a seamless immigration journey. With the SOWP, individuals can initiate a unique adventure, making the most of their time in the captivating Canadian landscape.
FAQs Related to Spouse Open Work Permit Canada (SOWP)
Here are some common inquiries about the Spouse Open Work Permit Canada, along with their respective answers:
Q. What is a Spouse Open Work Permit (SOWP)?
A. Spouse Open Work Permit (SOWP) is a type of work permit in Canada that allows the spouse or common-law partner of a temporary foreign worker or international student to work for any employer in Canada.
Q. Can dependent children be added to a Spouse Open Work Permit application?
A. Yes, dependent children can get a visitor record that matches your Spouse Open Work Permit's duration and they can join you in Canada. Also, if they are of working age (under 22), they may be able to get their own open work permit.
Q. Can a Spouse Open Work Permit be rejected?
A. Yes, it can. There are different reasons for this, like needing more proof of funds, evidence of a genuine relationship, or if the main applicant lives outside Canada and has weak ties to their home country.
Q. Can I work anywhere in Canada on a SOWP?
A. Yes, holders of SOWP have the flexibility to work anywhere in Canada for any employer, with only a few restrictions.
Q. How to renew your Spouse Open Work Permit?
A. Spouse Open Work Permit cannot be renewed. If your permit expires but your spouse or partner still maintains eligible status in Canada, you can apply for a new Spousal Open Work Permit.
Explore related articles for further insights:
We hope that this article about the "Spouse Open Work Permit Canada" has offered you valuable insights. If you're interested in exploring more about work permits, be sure to visit LooneyTooney.ca. Stay informed with the latest updates and insights in this field!