Family sponsorship in Canada is one of the fundamental pillars of Canadian immigration policies, reflecting the country's commitment to fostering family unity and facilitating the reunion of loved ones. Through its Family Sponsorship program, the Canadian government provides options for Canadian citizens and permanent residents to sponsor eligible family members to join them in Canada.
---
Table of Contents
---
What is the Program on Family Sponsorship in Canada?
The Family Sponsorship program from the Canadian government provides an avenue for you as Canadian citizens and permanent residents to Sponsor your Spouse, Partner, or Child to come and live in Canada permanently. This program plays a pivotal role in reuniting families, allowing them to build a new life together and contribute to the cultural diversity of Canada. The article explores the Family Sponsorship for a spouse, partner, and child program in detail.
You may be able to sponsor your spouse, partner, or dependent children to immigrate to Canada as permanent residents if you meet the requirements, and if you meet them, you will have to:
Give them financial assistance.
Check to see whether they require government Social Assistance.
---
---
What is a Sponsorship Agreement?
During the undertaking period, it is essential for you and your sponsored family members to mutually agree on specific responsibilities. This arrangement is commonly referred to as the sponsorship agreement. Both the sponsor and the primary applicant are required to affix their signatures to the sponsorship agreement. Prior to signing, it is advisable for both parties to conduct a thorough review of the agreement to guarantee a comprehensive understanding of the obligations and rights associated with entering into this commitment.
The sponsorship agreement includes specific provisions. First, it requires you to provide for the basic needs of your sponsored family members. Additionally, the agreement expects the person you sponsor to make reasonable efforts to support themselves and their family members. These mutually agreed-upon responsibilities are integral components of the sponsorship agreement.
What is the Eligibility of Family Sponsorship in Canada?
You have to be over 18 years old.
You either should be a citizen of Canada, a permanent resident or have a Canadian Indian Act Registration.

To sponsor individuals who are becoming permanent residents, Canadian citizens residing outside Canada must prove their intention to live in Canada.
Permanent residents living outside Canada are ineligible to sponsor anyone.

You have to show that you are not getting assistance from the government for any purposes other than those related to a disability.
You should be able to support the basic requirements of the person you want to sponsor.
If you reside outside of Quebec
You must commit to financially support the people you are sponsoring for a particular duration of time to be considered a sponsor. This commitment is what you refer to as an undertaking. The undertaking binds you to return whatever provincial social assistance your sponsored family members get during that period.
Additionally, during the undertaking period, you and the sponsored family members must agree to specific obligations. This is known as the sponsorship agreement.
Who is not Eligible to Sponsor Their Family?
You have not met the basic eligibility requirements.
You are a temporary resident, which means you have a visa or authorization to enter Canada to visit, study, or work.
Your application for permanent residency is still pending.

You must be eligible for permanent residency when you submit your sponsorship application.

You don't have enough money to support the people you wish to sponsor. (If relevant)
You are in prison or jail.
You did not repay:

A performance bond
Immigration loan

You were found guilty of committing or trying to commit a violent crime, a crime against a relative, or a sexual offense inside or outside of Canada.
Whom Can I Bring Under Family Sponsorship in Canada?
Under the family sponsorship program in Canada, you can sponsor the following type of people.
Spouse, partner, or children sponsorship
Grandparents or parents sponsorship
Relatives sponsorship
Adopted children sponsorship
Visit children or grandchildren sponsorship
Sponsoring individuals facing domestic violence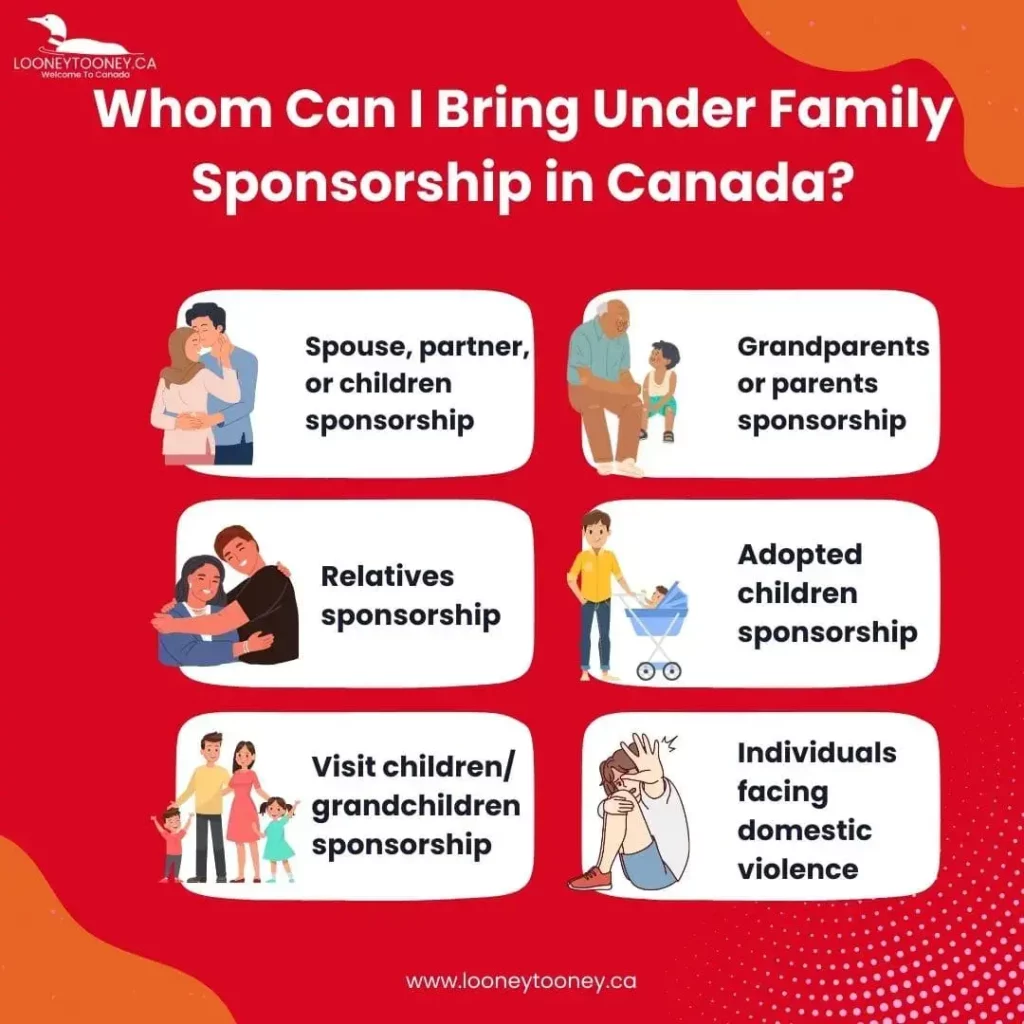 1. Spouse, Partner, and Children Sponsorship
This category allows Canadian citizens and permanent residents to sponsor their legally married spouses or common-law partners and Dependent Children. Your spouse or common-law partner includes both opposite-sex and same-sex relationships. Also, it applies to individuals in a genuine and committed relationship with their Canadian citizen or permanent resident partner but unable to marry or live together due to extenuating circumstances. Canadian citizens and permanent residents can sponsor their dependent children, including biological and adopted children, who are below the age of 22 years and unmarried.
The sponsor assumes legal obligations and acts as a guarantor, ensuring that the sponsored spouse, partner, or child has the necessary means and support to settle in Canada and establish themselves in Canada.
2. Grandparents or Parents Sponsorship
You can sponsor your parents and grandparents to reside in Canada if you are a citizen of Canada or a permanent resident.
To be eligible to sponsor their parents and grandparents, the sponsors must:
Demonstrate that they have sufficient income to support their sponsored family members and meet the Minimum Necessary Income (MNI) threshold, which is determined based on the size of the sponsor's family unit.
Sponsors must also sign a legal undertaking, committing to financially support their parents or grandparents for a specified period after their arrival in Canada.
The "Interest to Sponsor" draw occurs annually and helps Canadian citizens and permanent residents to express their interest in sponsoring their parents and grandparents. Interested sponsors can submit an online "Interest to Sponsor" form within a specified time frame, typically in January. The Canadian government then conducts a draw to randomly select potential sponsors from the submitted forms. Selected sponsors from the draw are invited to submit a complete "Parent and Grandparent Sponsorship" application within a given timeframe.
Once the application is submitted, the Immigration, Refugees, and Citizenship Canada (IRCC) reviews your application. IRCC conducts background checks, medical examinations, and interviews if necessary. If the sponsorship application is approved, the sponsored parent(s) or grandparent(s) will receive permanent resident status in Canada.
3. Relative Sponsorship
This category includes sponsorship for relatives like brothers and sisters, nephews and nieces, and other close relatives related by blood or adoption.
It is important to note that sponsorship for relatives other than parents, grandparents, spouses, partners, and dependent children falls under the Family Class sponsorship. This category operates differently from the Sponsorship for immediate family members and has specific requirements and limitations.
The sponsor must commit to providing financial support to the sponsored relative for a specific period of time after their arrival in Canada. This commitment is essential to ensure that the sponsored relative does not become a burden on Canadian social assistance programs.
4. Sponsor your Adopted Child
As a Canadian citizen or permanent resident, you can sponsor your adopted child if you have legal adoption documentation and meet specific requirements.
To sponsor your adopted child, you need to submit an application to Immigration, Refugees, and Citizenship Canada (IRCC). The application involves providing proof of your Canadian citizenship or permanent residency and evidence of your legal adoption of the child. You may also require additional documentation, such as birth certificates, adoption orders, and identity documents.
Also, sponsors are required to meet certain financial obligations and demonstrate their ability to support their adopted child upon their arrival in Canada. This involves showing that you have the necessary income to provide for their basic needs without relying on social assistance.
The sponsorship process for adopted children typically follows similar guidelines to sponsoring biological children. Once the application is approved, the adopted child will receive permanent resident status, allowing them to live, study, and work in Canada.
5. Visit Children or Grandchildren
As a visitor, it is essential to satisfy the following criteria:
Have a valid passport and
If applicable, obtain a visitor visa (Temporary Resident Visa) before traveling to Canada. 
The duration of stay is typically up to six months (Determined by the immigration officer at the port of entry)
Having travel insurance is recommended to cover any medical emergencies or unexpected situations.
If you are visiting family members in Canada, a letter of invitation from your Canadian relative can be helpful. The letter should state your relationship, purpose of visit, intended duration of stay, and confirmation.
6. Sponsor Individuals experiencing Domestic Violence
In certain situations, a victim of domestic abuse may be reluctant to leave their violent husband or partner because of fear of losing their immigration status. Canada helps you get help and also provides options to stay. The options provided are as follows:
If your temporary status is still in effect in Canada, you might be eligible to extend or renew it.
When your temporary status is expired, you can:

Reinstate your status
Get a special permit (temporary resident permit – TRP) to temporarily stay in Canada.
How to Apply for Family Sponsorship?
This section outlines the key steps and considerations involved in family sponsorship, ensuring you can reunite with your loved ones in this welcoming country.
Step 1: Confirm Your Eligibility as a Sponsor
Before you begin the family sponsorship process, it's essential to ensure that you meet the eligibility criteria to be a sponsor. According to Immigration, Refugees, and Citizenship Canada, you must:
Be at least 18 years old
A Canadian citizen
A permanent resident of Canada residing in the country
If you are sponsoring your spouse, partner, or child, you must also demonstrate that you can provide for their basic needs, support them financially, and are not receiving social assistance for reasons other than a disability.
Step 2: Determine Whom You Can Sponsor
Family sponsorship allows you to bring various relatives to Canada, including:
Spouse
Common-law partner
Conjugal partner
Dependent child/children
Your parents or grandparents, whether related by blood or adoption
Relatives such as a brother, sister, aunt, or uncle in specific situations
Step 3: Begin the Application Process
The application process for family sponsorship varies depending on the family member you wish to sponsor:
For Spouse, Partner, or Child Sponsorship
Carefully read the guide to understand the application process for your specific circumstances. Ensure that you complete the application package accurately, providing all necessary information, signatures, and documents.
For Parent or Grandparent Sponsorship
Note that the Parent/Grandparent Sponsorship Program (PGP) may have annual quotas, and the intake process can vary. Monitor IRCC's website for updates on the application process.
For Other Relatives Sponsorship
When sponsoring other relatives, it's crucial to fill out the application package accurately, as the sponsorship application fee is non-refundable. This step ensures a smooth and efficient processing of your sponsorship application.
Before you submit your application, there are some essential checks to complete. First, make sure you have included all your family members in the application. Secondly, verify that all the information you have provided is accurate and truthful. Finally, ensure your application is complete with all the necessary documents and details before submission. These steps are crucial to a successful application process.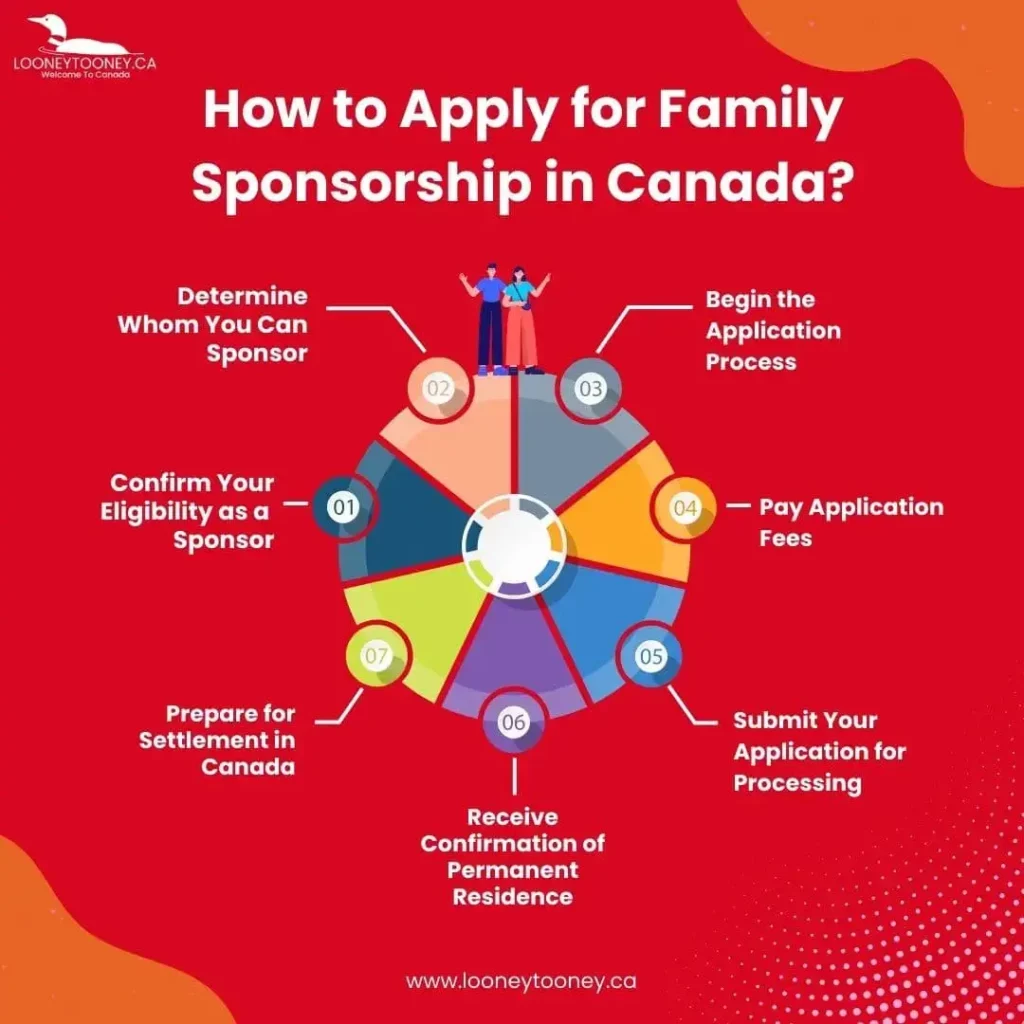 Step 4: Pay Application Fees
Family sponsorship application fees can vary based on the family member being sponsored. In most cases, the fees include processing fees, the right of permanent residence fee, and the biometrics fee. Ensure you pay these fees online and retain a copy of your payment receipt for inclusion in your application.
Additional costs may apply for:
Medical examinations
Police certificates
Certified translations of documents not in English or French
Step 5: Submit Your Application for Processing
The eligibility assessment of the sponsor's application occurs within Canada. If the sponsor is found eligible, the sponsored family member(s) PR status application is processed by the visa office in their place of residence. Upon processing, IRCC will provide you with an application number and an acknowledgment of receipt.
If your sponsorship application is refused, you can choose to proceed with processing the PR application for your family members or withdraw your application. Note that fees, except the $75 CAD sponsorship fee, will be refunded if you withdraw.
After receiving approval from IRCC for your family members' PR applications, the final step in processing their applications involves the submission of the following documents by your family members or relatives, as well as any dependents immigrating to Canada with them (if applicable):
Passports or photocopies of passports. The necessity varies based on whether they are nationals requiring a visa.
Two photos that meet IRCC's PR photo specifications.
Proof of payment for the right of PR fee.
Step 6: Receive Confirmation of Permanent Residence
After fulfilling the requirements, Immigration, Refugees, and Citizenship Canada (IRCC) will proceed to provide your family members with the necessary documents to finalize their permanent residency status. These documents include:
1. Confirmation of Permanent Residence (COPR): This document signifies the official approval of their permanent resident status in Canada. It serves as confirmation that they have met the immigration criteria and are eligible to become permanent residents.
2. Permanent Resident Visa, stamped in their passport (if required): Depending on their nationality and specific circumstances, your family members may receive a permanent resident visa affixed to their passport. This visa allows them to enter Canada as permanent residents.
Once your family members have received these important documents, they will be ready to make arrangements to travel to Canada and begin their new life as permanent residents of the country.
Step 7: Prepare for Settlement in Canada
Upon receiving the COPR, your sponsored family members can take steps to prepare for life in Canada, including using pre-arrival services, seeking recognition for their qualifications, learning about living and working in Canada, and understanding the networking culture.
Upon the arrival of your sponsored family members at the Canadian port of entry, they will need to present several important documents to the border services officer. These documents include their Confirmation of Permanent Residence, a valid passport or travel document, and a valid PR visa (if one has been issued). If they intend to reside in Quebec, they must also have their Quebec Selection Certificate ready, along with any other documents they were instructed to bring.
The border services officer's responsibilities at this point involve checking the validity of the PR visa and COPR to ensure they have not expired. Additionally, they may ask your family members to confirm the accuracy of the information provided in their application as part of the routine verification process.
---
---
What Income do you need for Family Sponsorship in Canada?
If you are considering sponsoring family members in Canada, you might wonder about income requirements. Here's a breakdown:
Who Needs to Meet Income Requirements?
Certain sponsorships, like parents, grandparents, eligible orphaned relatives, or those under the "lonely Canadian" policy, have income requirements.
These sponsors must meet the Minimum Necessary Income (MNI) based on their family size.
They also need to provide proof of meeting the MNI for at least three consecutive years with Canada Revenue Agency-issued Notices of Assessment (NOA).
Sponsoring a Spouse: No Specific Income Requirement
When sponsoring a spouse, there's no specific income requirement.
However, all sponsors must sign an undertaking.
This undertaking commits to providing financial support for their sponsored family member's basic needs.
It also means agreeing to repay any social assistance benefits received by the sponsor and their family member(s) over 20 years.
In Quebec, an additional undertaking may be needed.
For spousal sponsorship, including spouses, common-law, or conjugal partners, the undertaking lasts 3 years from the day the sponsored person becomes a Canadian permanent resident.
Sponsoring Dependent Children: No MNI Requirement
Canadian citizens or permanent residents who are sponsoring their dependent children are not required to meet the MNI requirement, as long as the sponsored dependent child does not have any children of their own.
If the sponsored dependent child has their own dependent children, the sponsor must meet the MNI corresponding to the size of their family unit.
For specific requirements and the most up-to-date information, check the official website. Understanding these income requirements is crucial for a successful family sponsorship application in Canada.
FAQs on Family Sponsorship in Canada
Here are some frequently asked questions about the Family Sponsorship program in Canada:
Q. What is the purpose of the Family Sponsorship program in Canada?
A. The Family Sponsorship program in Canada allows Canadian citizens and permanent residents to sponsor their spouse, partner, or child to live in Canada permanently. Its primary goal is to reunite families and promote cultural diversity in the country.
Q. What are the main steps in the Family Sponsorship process?
A. The process includes confirming eligibility, selecting the family member to sponsor, completing the application, paying fees, submitting for processing, receiving confirmation of permanent residence, and preparing for life in Canada. Specific steps may vary based on the sponsored family member.
Q. How long does the Family Sponsorship process take in Canada?
A. The processing time for Family Sponsorship in Canada can vary. After submitting all required forms and documents, the waiting period for a decision typically ranges from 10 to 25 months.
Q. Who is not eligible to sponsor in Canada?
A. To sponsor someone in Canada, the sponsor must be a Canadian citizen or a permanent resident living in Canada. The sponsor should not be in jail, bankrupt, facing deportation (if a permanent resident), or charged with a serious crime. Also, they cannot have been sponsored as a spouse to Canada in the last 5 years.
As Canada continues to embrace the power of family sponsorship, it reiterates its dedication to building a compassionate and inclusive nation. By recognizing the importance of family bonds and providing a platform for reunification, Canada paves the way for a brighter future where families can thrive, grow, and contribute to the tapestry of this great nation.