This article has been reviewed and approved by Sanchita Chugh a certified RCIC (Registered Canadian Immigration Consultant).
A work permit is a legal document issued by the Canadian government that allows foreign nationals to work in Canada for a specified period of time. This permit is required for individuals who are not Canadian citizens or permanent residents but wish to work temporarily in the country. PGWPs are typically granted based on job offers from Canadian employers and are subject to various eligibility criteria and requirements.
Shifting from student life and entering into the professional world is an exciting journey. However, successfully obtaining a Canadian work permit might feel akin to uncovering a concealed route. We get it, between acing your classes, hustling through assignments, and maybe even tracking down the best local eats, adding 'work permit' on your resume might appear as a challenging journey. To learn more about work permit for students in Canada, scroll down.
---
Table of Contents
---
Can I Work While Studying in Canada?
If you are an international student with a study permit and enrolled full-time in a Designated Learning Institution (DLI), you can work off-campus without needing another permit. You have the freedom to work for any employer in any occupation anywhere in Canada. You can even work on campus if you want.
Your study permit will indicate whether you are permitted to work in Canada and outline the terms of employment. This lets you apply for a Social Insurance Number (SIN) from Service Canada, which is an essential requirement before you start working while pursuing your studies in Canada.
If your study program is less than six months or if you are in an English as a Second Language/French as a Second Language program, you can't work in Canada unless authorized. Also, if you are a visiting or exchange student at a DLI, you won't be able to work while studying in Canada. It's important to note that you can only start working once your study program officially begins.
---
---
From Studies to Work: Changing Permits
You may be eligible to apply for a post-graduation work permit, after completing a credential at a DLI. International students can receive post-graduation work permits lasting up to three years upon graduation.
A post-graduation work permit, also known as an open work permit, offers the advantage of not being restricted to a particular employer, job, or place. With this permit, you have the freedom to work in any position, anywhere across Canada.
After completing your study requirements, you have 180 days to apply for an open work permit. The application for a post-graduate work permit can be submitted from overseas or within Canada.
Working in Canada After Graduation
Your Canadian study permit will have a validity of 90 days after your graduation. If you are interested in staying in Canada to look for work after completing your studies, it's essential to apply for a work permit through the Post-Graduation Work Permit Program (PGWPP) within this timeframe. This offers you the opportunity to accumulate work experience after graduation, which can enhance your eligibility for permanent residence through the Express Entry system. You are eligible for this if you were enrolled as a full-time student for a minimum of eight months.
Impact of Canadian Study Duration on PGWP Validity
It's important to note that the duration of your academic program can significantly impact your work permit eligibility and the duration. If the length of your program is:
| | |
| --- | --- |
| Duration of the Course | Work Permit Validity |
| Less than 8 months | Not eligible for a Post-Graduation Work Permit |
| More than 8 months but less than 2 years | The work permit duration can't exceed your study period. For example, if you studied for 9 months, the permit could be granted for 9 months. |
| 2 years or more than 2 years | 3 years |
Completing multiple academic programs could lead to a PGWP with a duration equal to the combined length of each program. But both programs need to be at least 8 months long, and you shouldn't have already received a PGWP based on the first program.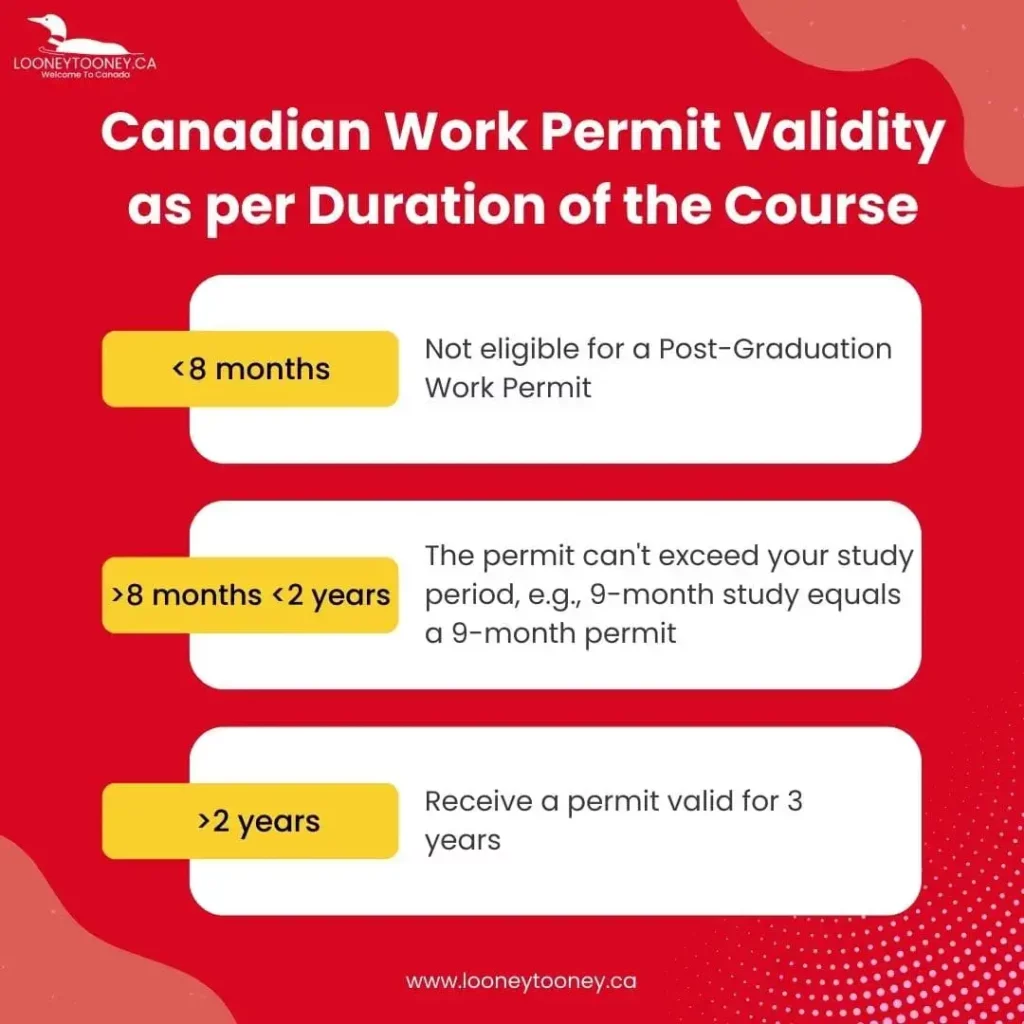 Post-Graduation Work Permit (PGWP)
Work permits issued via the Post-Graduation Work Permit Program enable international students who have completed their studies at a participating Canadian post-secondary institution to gain valuable work experience within Canada. To be eligible, your study permit must have been valid within 180 days before applying for a PGWP.
However, you must also have:
Successfully finished an educational program at a designated learning institution lasting a minimum of 8 months and resulting in a degree, diploma, or certificate.
Maintained full-time student status throughout each semester of your program in Canada. Except for the final semester when part-time is allowed, or if you took a leave from studies.
Completed studies at:
– A public post-secondary school like a college, trade or technical school, university, or CEGEP in Quebec.
– A private post-secondary school in Quebec adhering to the same regulations as public schools in Quebec.
– A post-secondary or private secondary school providing qualifying programs of 900 hours or longer, leading to a diplôme d'études professionnelles (DEP) or an attestation de spécialisation professionnelle (ASP) in Quebec.
– A Canadian private school that can give degrees under provincial law, like Associate, Bachelor's, Master's, or Doctorate degrees. But this only counts if you are in a program that leads to a degree as authorized by the province.
Restrictions on the PGWP Application
You cannot apply for the Post-Graduation Work Permit Program if:
Already possess a post-graduation work permit
Studied French/English as a second language
Enrolled in general interest or self-improvement courses
Engaged in the Government of Canada Awards Program funded by Global Affairs Canada (GAC)
Received funding from GAC
Received the Equal Opportunity Scholarship, Canada-Chile
Participated in the Canada-China Scholars Exchanges Program or Organization of American States Fellowships Program
Completed the majority of your study program through distance learning (online courses, e-learning, or correspondence)
Completed an educational program at a non-Canadian institution located in Canada
Who is Eligible for PGWP in Canada?
The eligibility for a work permit varies depending on your application location. Yet, regardless of the specific Canadian work permit, all applicants must fulfill the following eligibility requirements: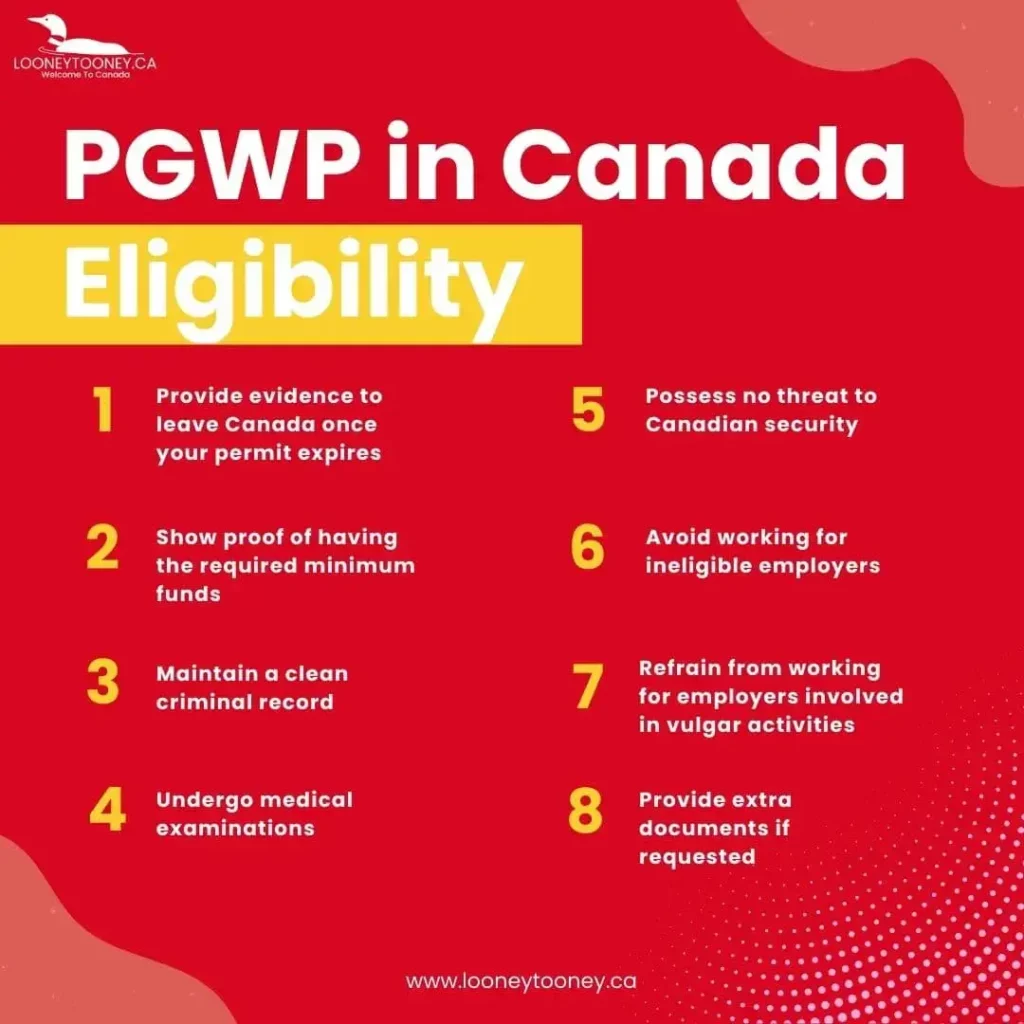 You need to provide evidence that you are planning to leave Canada once your work permit expires
Show proof of having the required minimum funds
Maintain a clean criminal record; the applicant might need to provide a police clearance certificate
Undergo medical examinations and be in good health
Poses no threat to Canadian security
Avoid working for ineligible employers
Refrain from working for employers involved in activities like striptease, erotic dances, escort services, and erotic massages
Provide extra documents if requested by the officer
Step-By-Step Guide to Apply for a PGWP
Applying for a work permit in Canada involves a systematic approach to ensure a successful application. Follow the step-by-step procedure outlined below to smoothly progress through the process:
Step 1: Gather Documents
Make use of the Document Checklist (IMM 5583) and gather all the supporting documents to submit with your application. Failing to submit a complete application could lead to its rejection and cause delays in processing. You will also receive a personalized document checklist when you apply online.
Once you have gone through this instruction guide and think you qualify, you can move ahead with the application. Make sure you attach supporting documents as well, such as a Transcript and completion of study letter from college.
Fill in the forms accurately and thoroughly, and remember to keep a copy for your own records.
Step 2: Filling Out the Application
Below is a list of forms that you need to complete and send as part of your application:
Providing false or misleading information on these forms is an offense. The details you provide might be checked for accuracy. Ensure your responses are complete and truthful. If a question or section doesn't apply to you, write "Not Applicable" or "NA," except for your name.
You can download and complete the application form on a computer. Additionally, you have the option to save your form and finish it later. You might need to provide all the details mentioned below in the form:
UCI or client ID
Select your work permit preference
Personal details
Language
Passport
Contact information
Purpose of original visit and document information for entry to Canada
Education
Background information and declaration
Note: An incomplete application might be rejected, leading to processing delays. You are required to answer all questions on this application form unless specified otherwise.
Step 3: Pay the Application and Other Related Fees
Upon online application, you will need to pay a processing fee for each service you need. Ensure all fees are submitted along with your application. You don't need to apply separately to extend your temporary resident status when you are applying for a work or study permit. The officer will provide all the required documents within a single application. Additionally, please note that there is no fee for the Co-op work program.
Check out the fees for services from the table below:
Services
Amount
Work permit (including extensions) – per person
$ 155
Open work permit holder
$ 100
Restore the status as a student
Restore your status ($200) and obtain new study permit ($150)
x $ 350
For biometrics fees for individuals and families, review the table provided below:
Biometrics for Individuals and Families
Amount
Biometrics (per person)
$ 85
Biometrics (per family) (2 or more people)
Maximum fee for a family of 2 or more individuals applying at the same time and place
$ 170
Ensure your eligibility before making payment for your fees and provide all requested information before submitting your application. The processing fee is non-refundable, regardless of the final decision once the Case Processing Centre begins processing the application. For instance, if your study permit has expired and you mistakenly apply for an extension instead of restoration, the extension fee won't be reimbursed, and you will need to reapply for restoration with the correct fees.
If you are out of status, you must pay both the permit fee and restoration fee while applying. The process of restoration applies to every individual who has lost their status.
Declaring you as ineligible counts as "processing," and the fee won't be returned. If you reapply, you will need to pay another processing fee.
How To Pay the Fees for Your Application?
For online fee payment in your account, a valid credit card is required. You need to create an account to register or sign in using GCKey or Sign In Partner.
Only online payment is accepted. If you use any other payment method, IRCC will send back your application.
Refunds
To obtain a refund, you have to submit a written request to withdraw your application to the Case Processing Centre. The processing fee can be refunded only if your request reaches before processing starts. Once processing is initiated, no refunds will be granted, regardless of the final decision.
The refund will be issued to the individual listed in the "Payer Information" section of the receipt. If there is no name on the receipt, the refund will be sent to you. The refund procedure depends on your chosen payment method.
---
---
Post PGWP Application
The Case Processing Centre will check if your application is complete. If it's missing a signature or the required fee, they will send it back, and you need to apply again.
When your application is rejected as 'incomplete', it is considered like you never applied. So, you won't be able to maintain your status. If you apply again after your current status ends, you will need to ask for a restoration of status.
If your application is complete, the Case Processing Centre will take one of the following actions:
Give you a visitor record, a new work permit, or a new study permit
Send you a letter saying your application is denied
Tell you that your application is sent to a local IRCC center for further assessment
PGWP in Canada Processing Time
Processing a PGWP can take between 80 to 180 days. During this wait, you can work in Canada if you apply before your student permit's expiry date. From the date your program of study was completed, you have 180 days to apply for your PGWP.
The majority of applications go through the Case Processing Centre, but a few are directed to a local office for additional clarification. If yours is sent there, they will get in touch for additional information or clarification and even invite you to an interview. This process might take up to 3 months. After receiving the additional information, the local office will finish processing and may invite you for an interview if needed.
For the latest processing times, you can always check the IRCC website via this link:
https://www.canada.ca/en/immigration-refugees-citizenship/services/application/check-processing-times.html
Note: A large number of applications are received each year. It is recommended to submit your application at least 30 days prior to the expiration of your current document.
Restoration of Status
When a temporary resident's status is lost or their authorization to work or study has expired, they have the option to apply for the restoration of that status as outlined in section 182 of the Immigration and Refugee Protection Regulations (IRPR). To be eligible for restoration, you must still meet the initial requirements for your stay and not have breached any other imposed conditions.
Given that status and authorization differ according to the IRPA, an applicant can only restore their status to that of a temporary resident and to the authorization that they held immediately prior to the restoration application. (For instance, an individual who lost their status can't apply to restore temporary resident status with authorization to work). Note that you can't study or work in Canada until your restoration application is processed.
You have the opportunity to restore your status as a student, visitor, or worker within 90 days if you lost it for the following reasons:
If you stayed in Canada longer than authorized, but not exceeding 90 days.
Switched employers, job locations, or job types prior to obtaining a new work permit.
If you changed your study details, such as program, school, location, or schedule, without updating your study permit.
Applying for a New Study or Work Permit with Restoration of Status: Step-by-Step
If you want to apply for a new study or work permit and restore your temporary resident status as a student, follow these steps:
Apply for your work permit online within 90 days of losing status.
Make sure you continue to meet the requirements for your stay.
Follow all remaining conditions on your permit.
Pay your work permit fees and the $350 student status restoration fee online. Attach the receipt to your application. No extra restoration application is necessary. This process applies to each family member who lost status, but approval isn't guaranteed.
An officer will review your restoration request. If approved, they will process your work or study permit application. You will be notified of any additional steps if needed.
Factors Leading to the Refusal of a PGWP Application
Here are the reasons for work permit refusal in Canada, outlined below:
1. Insufficient Documentation
Missing or incomplete forms
Inadequate proof of qualifications or work experience
Insufficient evidence of financial support
2. Non-Genuine Offer of Employment
3. Lack of Qualification or Experience
Applicants must meet job requirements to prevent job duty issues
4. Previous Denials
Past refusals, even unrelated to work permits, may lead to rejection
Indicates failure to meet requirements or follow the correct application process
5. Inaccurate Application Details
Incomplete or inconsistent information likely leads to rejection
Discrepancies raise concerns about application accuracy
Final Insights: Your Path From Study To Work in Canada
A Canadian work permit opens doors to diverse opportunities, from gaining work experience to pathways for permanent residency. However, accuracy, adherence to regulations, and proper documentation are vital. Whether pursuing short-term work or a long-term career in Canada, each step you take shapes your journey towards a successful and fulfilling future.
Once you get your work permit, it's important to follow its conditions and keep meeting the requirements of your Student Work Program. Not adhering to the terms of the work or study permit or the requirements of the Immigration and Refugee Protection Act and Regulations could lead to enforcement action by the Canada Border Services Agency. This may also have a detrimental impact on your upcoming applications under the Immigration and Refugee Protection Act.
FAQs Related to Post-Graduation Work Permit (PGWP)
A few frequently asked questions about Post-Graduation Work Permit (PGWP)and their answers are listed below:
Q. What is the validity of the post-study work visa in Canada?
A. The length of the PGWP in Canada depends on your academic program. The duration of your program should be a minimum of 8 months.
For programs lasting 8 months to 2 years, the PGWP matches the program's length.
If your program is 2 years or longer, the PGWP is valid for 3 years.
If you complete multiple programs, each at least 8 months long, your PGWP can extend to the combined length of these programs, provided you haven't already obtained a PGWP for the first program.
Q. Difference between a Canadian work permit and a visa?
A. A Canadian work permit lets foreign nationals work in Canada, while a visa is a travel document to enter the country.
Q. What is the processing time for PGWP in Canada?
A. The processing time for a PGWP can range from 80 to 180 days. While waiting, you are allowed to work in Canada if you applied before your student permit's expiry.
Q. What do I need to do if I want to change schools/institutions?
A. You must inform IRCC through your account when switching from one DLI to another, even if it's at the same study level. Check that your chosen school is on the DLI list. Also, ensure you still meet your study permit and work conditions if applicable.
Q. What should I do if I no longer meet the requirements of my study work program?
A. If you become ineligible for the program, follow the below steps:
Let your employer know you are not authorized to work, and
Return your work permit
You may also be interested in:
We trust that this article on "How To Get Work Permit for Students in Canada" has provided you with valuable information. If you are eager to dive deeper into the world of Canadian Work Permit, don't miss out on LooneyTooney.ca. Get ready to stay in the loop with the freshest updates and insights!