This Spectacular National Park a Stones Throwaway from GTA is a must visit
…
Did you know that the Southernmost point of mainland Canada is just about a 3-4 hour drive away from Toronto? And let us assure you that this visit is not just about touching an important geographical location, this is also about visiting the most diverse National Park ecosystem in the entire Canada. Yes, some of you would have guessed it right, we are talking about Point Pelee National Park in Ontario.
Canada is home to some of the most breathtaking natural wonders, and Point Pelee National Park stands as a shining example of the country's diverse and awe-inspiring landscapes. Located in the southwestern corner of Ontario, within an easy drive from the Greater Toronto Area, Point Pelee National Park is a haven for nature enthusiasts, bird watchers, and those seeking tranquility amidst the beauty of the great outdoors. With its unique geography, vibrant biodiversity, and fascinating history, Point Pelee National Park offers visitors a truly remarkable experience.
Geography and Formation:
Spanning over 15 square kilometers, Point Pelee National Park, which is the second smallest National Park in Canada, is a narrow peninsula jutting out into Lake Erie. It is the southernmost point of mainland Canada and lies at the same latitude as Northern California. The park's formation can be attributed to glacial processes that shaped the region during the last ice age. As the glaciers retreated, they left a distinct landform characterized by sandy beaches, wetlands, and Carolinian forests.
Flora and Fauna:
One of the most striking features of Point Pelee National Park is its incredible biodiversity. The park is located in the Carolinian Zone, a unique ecosystem that supports a variety of plant and animal species not found elsewhere in Canada. The park boasts over 750 species of plants, including some rare and endangered ones. Visitors can wander through lush forests dominated by tall oak, hickory, and tulip trees, or explore the park's extensive marshes, home to beautiful aquatic plants such as water lilies and cattails.
Point Pelee is a paradise for birdwatchers, as it lies along the migratory path known as the Mississippi Flyway. Over 390 bird species have been recorded in the park, making it a premier birding destination. During the spring and fall migrations, flocks of songbirds, waterfowl, and raptors pass through Point Pelee, attracting bird lovers from around the world. The annual Festival of Birds, held in May, celebrates this incredible avian spectacle.
Wildlife enthusiasts will also find plenty to admire at Point Pelee. The park has numerous reptiles, amphibians, mammals, and insects. Lucky visitors may spot white-tailed deer, foxes, raccoons, or the elusive eastern fox snake. The vibrant underwater world of Lake Erie provides a habitat for a variety of fish species, and visitors can enjoy fishing opportunities as well.
Activities and Recreation:
Point Pelee National Park offers a range of activities to cater to different interests and preferences. Hiking trails wind through the park, providing opportunities to explore its diverse habitats and observe wildlife up close.
The Marsh Boardwalk is a popular trail that takes visitors through the heart of the marsh, offering stunning views and birdwatching opportunities. The walk is about an hour long and at the start of the walk, there is a watch tower with stunning views of the Marsh. There are canoe rides with well-versed guides if you want to understand the significance of the beautiful marshland and enjoy even closer views of the flora and fauna.
Cycling is another great way to explore Point Pelee. Bicycles can be rented at the park, and the park's road network provides a pleasant and scenic route for cyclists of all skill levels. For those looking to take to the water, kayaking, and canoeing are available on the park's waterways, allowing visitors to experience the serenity of the marshes from a different perspective.
Beach lovers will be delighted by the park's inviting sandy shores. The beaches at Point Pelee National Park provide a tranquil escape, perfect for sunbathing, picnicking, or swimming in the clear waters of Lake Erie. The park also offers camping facilities for those who wish to spend the night and immerse themselves fully in the park's natural splendor.
It is surprising that within its small area of 15 square kilometers and along a 6-7 km long road, this National Park offers so many activities that can interest any age group.
Visit and Stay Options:
You can come to the park for a day visit or you may stay in the park at their camping location called Camp Henry. For day visitors, the timing varies based on the season. The fee is dependent on the season as well as if you are going alone or in a group. As of this publication, the part is open to day visitors as per the following schedule:
Mid-April to Labour Day – 6 am to 10 pm
Labour Day to Mid-April – 7 am to sunset
The day fee various from $5.75 for a senior to $16.75 for a vehicle with up to 7 individuals. Below is a screenshot of the park opening and fee details.
If you would like to really immerse yourself in the experience, we would highly recommend that you stay the night in the park. The park has 24 tented accommodations called the Authentick. Each tent can sleep up to 6 individuals. There is a barbeque and gas stove outside each tent. To book the tents you may check the link here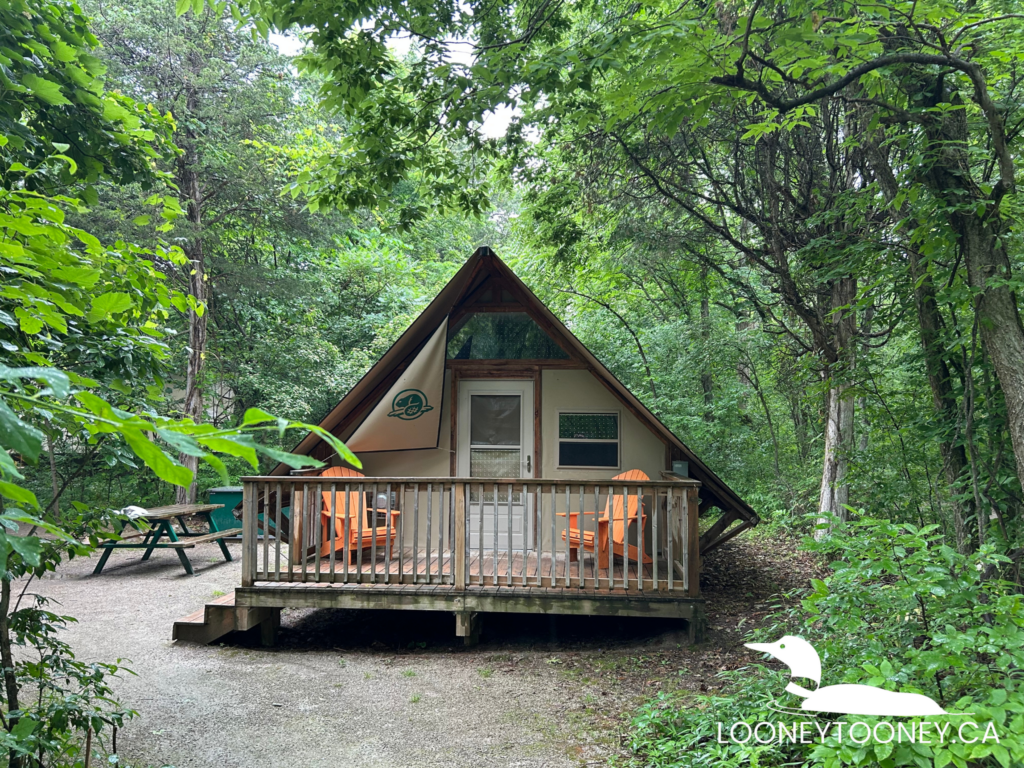 ---
Environmental Conservation and Education:
Point Pelee National Park is committed to preserving its unique ecosystems and educating visitors about the importance of conservation. The park actively participates in various research and monitoring programs to better understand and protect its natural resources. It also offers educational programs and guided tours to promote awareness and appreciation of the park's ecological significance.
The Marsh Boardwalk features interpretive panels, providing information about the park's flora, fauna, and conservation efforts. The park's Visitor Centre houses exhibits, displays, and interactive activities that delve deeper into the park's natural and cultural heritage.
Point Pelee National Park is a treasure trove of natural beauty and ecological diversity. From its stunning beaches and vibrant forests to its rich birdlife and unique geography, the park offers an unforgettable experience for all who visit. Whether you're an avid birdwatcher, a nature lover, or simply seeking a peaceful retreat, Point Pelee National Park beckons with its captivating charm. It is a testament to Canada's commitment to preserving its natural heritage and a place that truly deserves its reputation as a natural wonderland.