Welcome to Canada, the land of opportunity and diversity! If you're a skilled professional from a different country, and planning to make Canada your new home, we understand that the journey can be both thrilling and daunting. Aside from acclimatizing to a new culture and work environment, finding suitable housing upon your arrival, such as affordable short term rentals Toronto, can be a top priority.
In this comprehensive blog, we will delve into the world of temporary housing options for international professionals like you. Whether you're moving for a short-term project, pursuing further studies, or settling permanently in the Great White North, knowing your short term housing Toronto choices can make your transition smoother and more comfortable.
---
Table of Contents:
---
What are the Types of Short Term Rentals in Toronto, Canada?
Temporary housing options for working professionals are diverse, just like the vibrant cultures within the country. Each choice offers a unique charm, catering to various preferences and needs.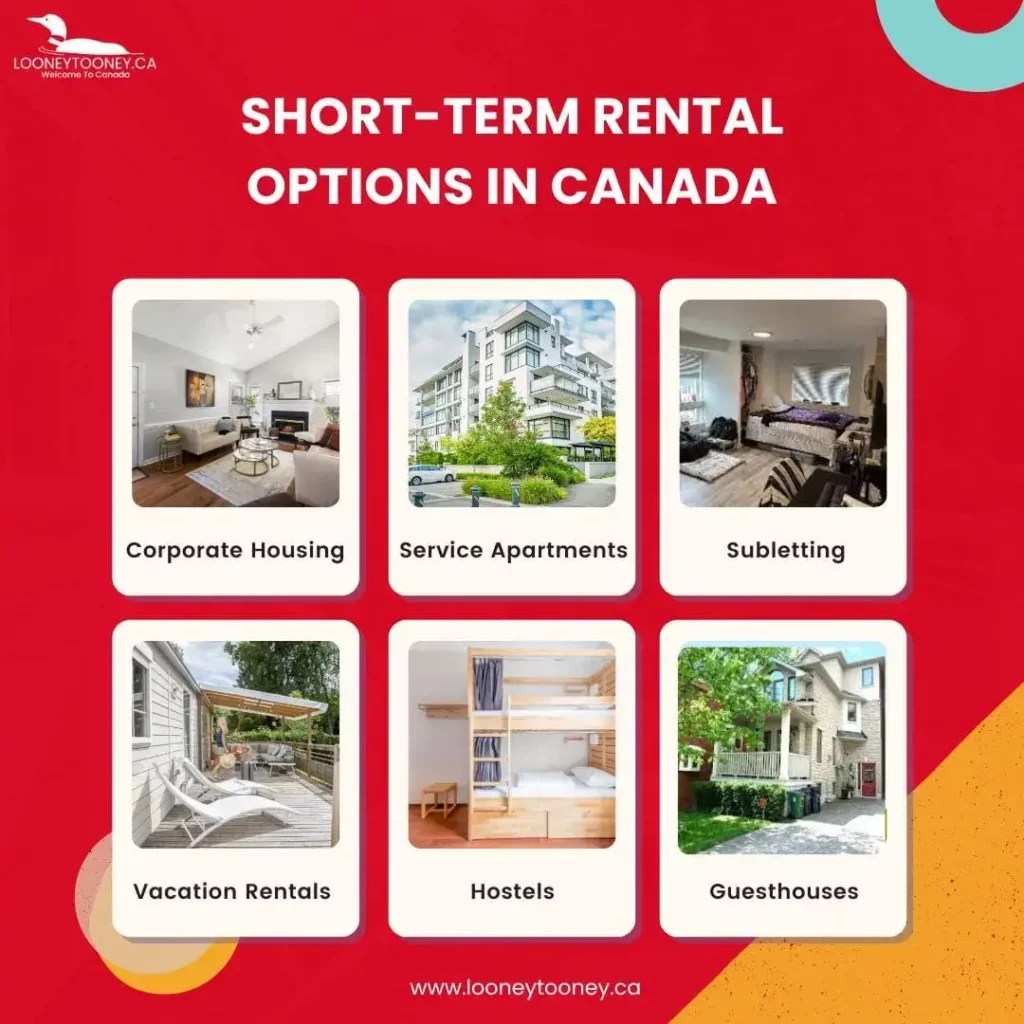 1. Corporate Housing
Corporate housing is a great choice for temporary stays in Toronto. It's perfect for business travelers, short-term workers, and individuals seeking fully furnished and serviced accommodation. These apartments provide all the comforts of home, including Wi-Fi, utilities, and fully equipped kitchens. This allows you to focus on your new job and life without the hassle of setting up separate services. These housing are usually located in downtown Toronto, close to business areas and fun places. Corporate housing costs around $2,500 to $4,500 a month in downtown Toronto.
2. Service Apartments
Service apartments are a great choice for busy professionals and those who want hotel-like comforts. These apartments come with furniture, a living area, a bedroom, a kitchen, cleaning services, and 24/7 assistance services. Moreover, some service apartments embrace cultural nuances, ensuring that even amidst change, you will find a touch of home. A medium-priced service apartment may cost between $2,000 and $3,500 per month.
3. Subletting
Subletting is a smart choice for young professionals who want affordable short-term housing in Toronto. With sublets, you can rent the entire apartment or a portion from someone who already has a lease. However, the amenities can vary depending on the sublet, they usually include shared common areas and utilities. Just be sure to verify the legality of subletting and ensure that all agreements are documented to avoid any potential legal issues. A room in a shared apartment in Toronto can cost around $700 to $1,500 per month.
4. Airbnb or Vacation Rentals
Airbnb and other vacation rental platforms offer a wide variety of choices for individuals seeking flexibility and diversity in their accommodations. You can choose between private rooms, entire homes, or shared apartments, depending on your budget and preferences. In order to give guests a comfortable and homely environment during their temporary stay, Airbnb rentals often come completely furnished, with Wi-Fi, kitchen stuff, and laundry. Prices change depending on where you are, how big the place is, and how long you stay. In Toronto, a private one-bedroom Airbnb apartment might cost you about $1,800 to $3,000 per month.
5. Hostels
Hostels are a budget-friendly and social choice for people who want to save money while staying in Toronto. They offer shared rooms and common areas where people can hang out. This makes it easy for guests to meet new friends and discover the city together. Typical amenities include a communal kitchen and common areas, with various social activities often organized by the hostel staff. Young professionals, digital nomads, and those who want to save cash prefer staying in hostels. Usually, a bed in a shared room might cost around $30 to $60 per night on average, depending on the hostel's location and offerings.
6. Guesthouses
Guesthouses are cozy and warm places for professionals who need a short term rentals Toronto. These accommodations provide private bedrooms with shared or private bathrooms, communal living spaces, and breakfast options (in some cases). Guesthouses are preferred by professionals who value a quieter and more personal accommodation option during their stay. Guesthouse prices change based on their location and what they offer. On average, you could expect to pay about $80 to $150 per night.
What are the Best Sites to Find Affordable Short Term Rentals Toronto?
With numerous options available in the city, finding the perfect short-term rental can be challenging. To help you with your search, we have compiled a list of the top five short-term rental providers in Toronto and the Greater Toronto Area.
1. LooneyTooney
LooneyTooney is an immigration platform designed to assist immigrants in obtaining the most credible information and services. Unlike typical listing sites that merely list properties, LooneyTooney offers a personal touch by assigning an expert to assist you in finding the most suitable properties based on your needs.
The expert will gather all your details and present the available properties for you to choose from. Additionally, the expert will assist you in securing the best discounts.
To enhance your experience, the LooneyTooney expert will also provide guidance on the neighborhood, including information on safety, nearby top schools, and more.
Contact: +16479819630
Price: Starting from CAD $115 per night
2. Toronto Boutique Apartments
Well-known in short-term accommodation space, Toronto Boutique Apartments provides fully furnished rentals that perfectly combine comfort and style. With an impressive portfolio of 90 properties, including 80 condos and 10 houses, you can choose your ideal temporary home. Each property is equipped with amenities that cater to diverse needs, consistently earning them an outstanding 5-star rating for their exceptional service.
Price: Starting from approximately $120 per night
3. DelSuites
The DelSuites is a trusted name for extended stays in Toronto, offering furnished homes across the city. They have properties in various prime locations, such as downtown Toronto, Etobicoke, Markham, Mid-Town, Mississauga, North York, and Scarborough.
Price: Starting from approximately $160 per night
4. Premiere Suites
As one of Canada's largest short-term rental providers, Premiere Suites manages over 1,300 professionally managed properties nationwide, including numerous units available for short-term rental in Toronto. Their Toronto properties are primarily located in Midtown, Downtown, and North York.
Price: Starting from approximately $140 per night
5. Sky View Suites
Sky View Suites manages over 150 furnished properties exclusively for short-term rental in Toronto, mainly located in the vibrant Downtown area. Despite being in luxurious neighborhoods, their rentals remain affordable.
Price: Starting from approximately $110 per night
6. Olivia's Housing
Olivia's Housing prioritizes personalized service, offering fully furnished rentals in Uptown, Midtown, and Downtown Toronto, conveniently close to popular destinations. Despite their boutique offerings, their prices are reasonable, making them an attractive choice.
Contact: 1-800-288-9894
Price: Starting from approximately $89 per night
Now that you have an overview of the top affordable short-term rentals in Toronto, you can choose the one that best fits your needs and budget, ensuring a comfortable and enjoyable stay in this vibrant city.
---
---
Things to Consider While Choosing Short-Term Rentals in Toronto
Every year, more newcomers are choosing Canada as their destination to start a new chapter in their lives. As a newcomer, understanding short-term housing Toronto options is crucial. Short-term rentals and rental properties, such as apartments or homes, offer affordability and flexibility. They are usually leased annually or monthly, based on the rental agreement. 
Understanding Your Rights as a Newcomer When Renting in Canada:
As a professional in Canada, you need to be aware of your rights under Canadian human rights law when seeking rental accommodation.
Landlords cannot ask personal questions about your background, duration in Canada, religion, family plans, etc.
Landlords can't reject you solely because you are a newcomer with limited credit or references.
Landlords cannot request more than the first and last month's rent (in Quebec, only the first month is required).
You can use a bank statement or a guarantor to demonstrate financial stability.
Understanding Your Rights as a Tenant:
Ensure to review both tenant and landlord rights and responsibilities outlined in the rental agreement before signing.
Note the rent amount, due date, lease termination conditions, and other restrictions.
Landlords are responsible for property safety and maintenance as specified in the lease.
Necessary items like appliances and utilities should be included in the rental property as part of the rent.
Fulfill your responsibilities: pay rent on time, maintain the property, report maintenance issues promptly, and follow rules (smoking, pets, etc.).
Note: Tenant and landlord responsibilities may vary between provinces. If your landlord fails to fulfill lease obligations, you have the option to reach out to your provincial landlord and tenant board.
How to Get the Best Short-Term Furnished Rentals in Toronto?
Searching for accommodation can be a daunting task, especially when you haven't reached your ultimate destination and have no connections or resources in the area. Here's a well-organized step-by-step guide to make the process easier:
Research: Start by researching the housing market, neighborhoods, and rental prices in the city you will be shifting to. Understand the various possibilities and their accessibility to your workplace, public transportation, and necessary facilities.
Online Platforms: Check out the websites and apps that offer short-term housing Toronto listings, like Craigslist, Kijiji, or specialized rental websites. These platforms offer a wide range of options and let you browse the market remotely.
Local Contacts: Try reaching out to your friends, colleagues, or online groups for insights and recommendations. Local contacts can provide valuable information about the best neighborhoods to live in and credible landlords.
Real Estate Agents: Seek help from a reputable real estate agent who specializes in rentals. An experienced agent can assist you in navigating the housing market, understanding the legal aspects, and finding the most suitable options.
Virtual Tours: You can also request virtual tours of potential accommodations to assess the property remotely. These tours can provide a better idea of the space, layout, and overall condition of the property before making a decision.
How To Avoid Short-Term Apartment Rental Scams in Toronto?
In Canada, newcomers must be cautious when renting properties. It is crucial to carefully review the property listings and meet the landlord before committing to a lease agreement.
Be aware of the following warning signs when you are looking for a rental:
Unusually low monthly rent when compared to other similar places.
Being asked for a deposit without a formal rental agreement or lease.
Requests to send money to someone outside the country.
Emails directing you to a website asking for personal/financial information.
Ads displaying pictures of the outside that don't match the actual property.
To protect yourself against scams, you can:
Cross-check the address to ensure it is not a duplicate (this can be done on Google Maps).
Request a lease or contract and go through it carefully.
Make sure they provide all necessary documentation and agreements clearly.
Seek referrals from trustworthy sources who have rented from reliable landlords before.
Check for reviews and feedback about potential landlords online.
Verify the identity of the landlord before signing agreements or making any payments.
Consult your provincial/territorial department or ministry of housing to learn more about your rights as a tenant.
Important Points To Be Aware Of Short-Term Rentals Toronto
When selecting temporary housing, it is essential to take various crucial factors into consideration to ensure a comfortable and convenient living experience. Here are some important points to consider:
Location: Proximity to public transportation, workplace, schools (if applicable), and essential amenities might have an impact on your daily life. Choose a location that suits your lifestyle and convenience.
Safety: Prioritize neighborhoods with safe surroundings and low crime rates. Your safety and peace of mind should be a top priority when selecting temporary housing.
Furnishing: Especially for a short-term stay, furnished apartments can save you the hassle of buying and moving furniture. However, you can decide between furnished or unfurnished options according to your needs and preferences.
Utilities: Find out which utilities are included in the rent and which ones you have to arrange separately. Understanding the utility costs will help you budget better.
---
---
Embrace Toronto's Thrilling Temp Stays!
A variety of temporary housing options are available in Toronto for professionals seeking short-term accommodation. By conducting thorough research, understanding the process, and being aware of crucial considerations, professionals can make the best decisions and enjoy a comfortable and hassle-free stay in the city. Whether it's for a short business trip or extended work, finding the ideal temporary housing enhances the overall experience of living and working in one of Canada's most exciting cities.
We hope this article on "Affordable Short Term Rentals Toronto" was useful to you. To know more about Canada Immigration stay tuned to LooneyTooney.ca.